Palestine
Gaza-bound activists remain in Israeli custody for 2nd day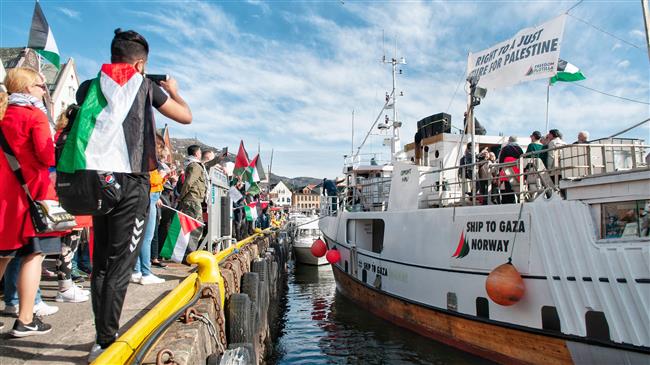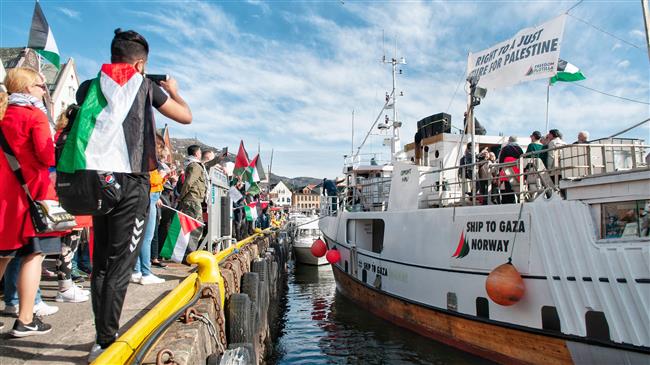 A dozen pro-Palestine activists, who were arrested by Israeli forces on board a Gaza-bound ship on Saturday, remain in custody of the regime for the second day.
On Saturday, Israeli forces seized the Swedish-flagged vessel "Freedom for Gaza" and took it to the port of Ashdod.
The Israeli army said in a statement that all the 12 activists on board the ship had been taken for "further inquiry."
The detained activists come from Sweden, Germany, Britain, Spain, France and Canada.
A spokeswoman for the Israeli immigration authority said the activists were still in custody and would be put on flights home.
The seized vessel was one of the four ships on the "Freedom Flotilla"  which set sail from Denmark in May to draw the world's attention to the suffering of Palestinians under an inhumane Israeli blockade on the Gaza Strip. Two of the ships, however, remained behind after a recent stop in the Italian port of Palermo.
Last Sunday, the Israeli navy seized a Norwegian-flagged boat called "Return" with almost two dozen activists on board. It was also part of the Gaza "Freedom Flotilla," which was taking medical supplies to the coastal enclave.
The International Committee for Breaking the Siege of Gaza announced on Wednesday that the Israeli authorities had begun deporting several of the detained campaigners.
Divina Levrini, a Swedish human rights activist arrested on board the "Return" boat, said that she had been "tortured" while in Givon Prison.
After her deportation to Sweden, she made an interview with the Palestinian Ma'an news agency, demanding international action in the face of "genocide going on by an apartheid regime."
The fresh seizure of Gaza-bound ships follows a number of failed attempts by activists to reach the coastal sliver of land in recent years.
In 2015, a flotilla of four boats bound for Gaza was forcibly redirected to Ashdod by Israeli forces.
Back in May 2010, an Israeli raid on another Gaza-bound aid flotilla, called Mavi Marmara, killed 10 Turkish activists in high seas and sent Ankara-Tel Aviv ties into a tailspin.
The two sides normalized relations in June 2016, but their ties sank to a fresh low in May 2018 after the expelling of envoys amid growing tensions over the killing of dozens of Palestinians in the Gaza Strip at the hands of Israeli forces.
Tensions have been running high near the Gaza fence since March 30, which marked the start of a series of protests, dubbed "The Great March of Return," demanding the right to return for those driven out of their homeland.
The Gaza clashes reached their peak on May 14, the eve of the 70th anniversary of Nakba Day (the Day of Catastrophe), which coincided this year with the US embassy relocation from Tel Aviv to the occupied Jerusalem al-Quds.