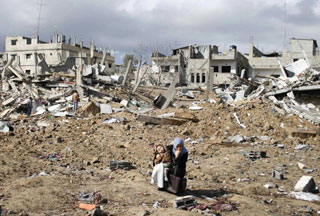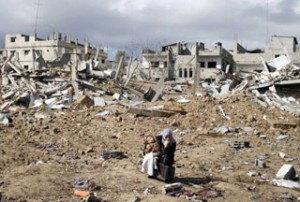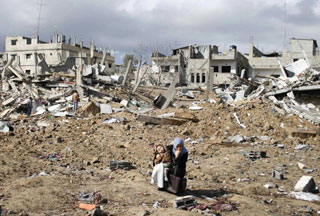 The Palestinian people in the Gaza Strip are marking the first anniversary of the deadly Israeli offensive against the coastal sliver.
Sirens were to wail throughout the Palestinian territory at 11:20 a.m. (0920 GMT), the time of the first rain of Israeli bombs on the Gaza Strip as "Operation Cast Lead" was launched.
Several demonstrations will be held during the day, with Hamas Prime Minister Ismail Haniya scheduled to make a television address this evening, AFP reported.
Hamas plans to hold events for 22 days, the length of the offensive.
"The goal of these events is that this war and its massacres, which have no precedent, should remain before the eyes of the world," said Ihab al-Ghussein, a spokesman for the Hamas interior ministry.
"This is so that the leaders of this Zionist war will be judged," AFP quoted al-Ghussein as saying on Sunday.
On Saturday, December 27, 2008, Israeli warplanes launched a simultaneous strike on the Gaza Strip and killed at least 225 people.
The attacks twisted the day into one of the single bloodiest days in the decades-long Israeli-Palestinian conflict.
On December 31, an estimated 1,300 people from 43 countries will join 50,000 Palestinians on the Gaza Freedom March to the Gaza-Israel Erez crossing, a Press TV correspondent said.
The marchers plan to walk from Rafah in Egypt to Gaza where they will join Palestinians from Gaza in a march to the Erez crossing.
The move is aimed at urging Israel to lift its blockade on the coastal sliver.
The already impoverished Gaza Strip has been under a complete Israeli siege, with full cooperation of the Cairo government, ever since the Hamas resistance movement, which does not recognize Israel as a sovereign state, won parliamentary elections in a surprise victory in 2007.