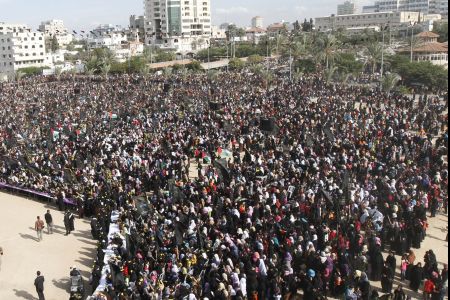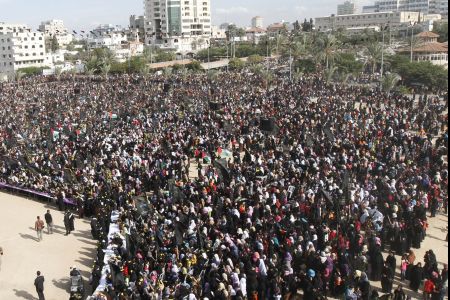 Tens of thousands of Palestinians have taken to the streets of the Gaza Strip to celebrate the 23rd anniversary of the establishment of the resistance group, Islamic Jihad.
Chanting anti-Israeli slogans, demonstrators expressed their strong commitment and support for the movement and called resistance the only way to liberate Palestine from Israeli occupation.
Top-ranking members of the Islamic Jihad and Hamas resistance movement, which controls Gaza, attended the ceremony and addressed the crowd. During the event Islamic Jihad officials called for unity among Palestinian factions and urged Hamas and Fatah to reconcile.
Islamic Jihad says it will never give up the Palestinian national rights and will resist the Israeli occupation to the end.
The movement has also underlined that it will not recognize US-sponsored direct talks between acting Palestinian Authority Chief Mahmoud Abbas and Israel, which have failed to bear fruit so far.
The new round of direct talks collapsed shortly after being launch again in September in Washington following Israeli Prime Minister Benjamin Netanyahu's refusal to respect the Palestinian Authority's demand of continuing negotiations and extending the partial settlement freeze in the occupied West Bank.
Friday's event also falls on the martyrdom anniversary of the movement's founder, Fathi Shaqaqi, who was assassinated in 1995 by Israel's spy agency, Mossad, in Malta. He was on his way to Tripoli to visit Libyan leader Muammar Gaddafi.