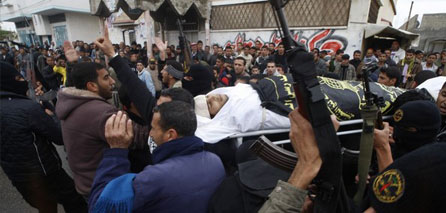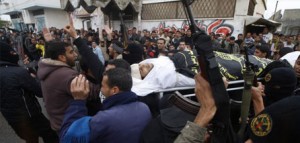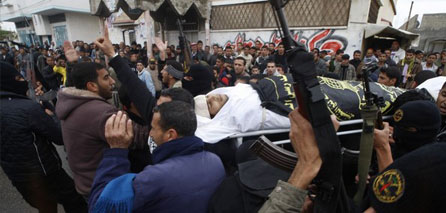 Zionist military incursion into the southern Gaza Strip ended late Saturday morning, killing one and injuring dozens in what officials say was the bloodiest Zionist incursion since the war on Gaza, which ended in January 2009.
The funeral procession for Haitham Abed Al-Hakim Arafat, 23, a civilian who was killed in an overnight airstrike, was held in Khuza'a, which locals said was "devastated" by Zionist invasion into the border town, east of Khan Younis. The procession began at the family home, before the burial in the Khan Younis cemetery.
Residents said Zionist tanks and armored bulldozers withdrew from the town, after partially destroying the home of Hashem Ad-Dughmah home, 200 meters from the borders.
Medics said 13 Palestinians were injured when tanks and bulldozers moved into Khuza'a, with injuries ranging from critical to moderate.
The Zionist incursion ended a day after its army was involved in deadly clashes with Palestinian resistance factions, which left two Palestinian civilians and two Zionist soldiers dead. Hamas' armed wing, the Qassam Brigades, claimed responsibility for the clashes.