Palestine
Gaza patients call for opening the crossings and allow them travel for treatment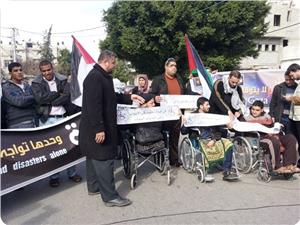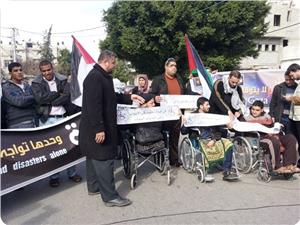 Dozens of patients in the Gaza Strip called for opening the crossings, especially the Rafah crossing, and lifting the blockade in order to allow them travel to receive treatment.
This came in a vigil organized by the National Committee to Lift the Siege on Tuesday morning in front of the headquarters of High Commissioner, during which the protesters waved banners denouncing the blockade and the closure of the crossings.
One of the wounded Mohammed Kahlout called upon the Egyptian authorities to open the Rafah crossing, to enable the patients to travel for treatment.
For his part, Abdullah Hajjar, from Salama (Safety) Association, warned of the continuation of the blockade imposed on Gaza by the Israeli occupation authorities, noting that it prevents the entry of medical aid and health needs into the Strip.
He pointed out that many people with disabilities need to undergo urgent surgeries abroad, while more than 1,250 wounded are in dire need of medical supplies, medicines, and electricity to operate medical devices that help them stay alive.
Hajjar said that a large number of sick and wounded, who have been deprived of travel, died after their health conditions deteriorated as a result of the continued closure of the border crossings.
He called upon the international community and the free world to exert pressure on the Israeli occupation to immediately lift the Gaza blockade.
He also asked the Health Ministers all over the world to support Gaza health sector, and urged the Egyptian authorities to open the Rafah crossing and allow the wounded and sick to travel in order to receive treatment abroad.