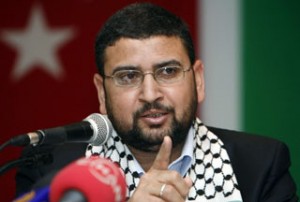 The Movement of Hamas stated Saturday that the Zionist decision not to end its blockade on the Gaza Strip in case there was a prisoner swap deal confirmed that the siege was imposed for purely political reasons and was not related to the capture of Gilad Shalit.
Hamas spokesman Sami Abu Zuhri told the German news agency (DPA) that the Zionist siege was imposed on Gaza for political reasons related to the victory of Hamas in the Palestinian legislative elections in 2006.
Spokesman Abu Zuhri said that this decision reflects the Zionist persistence in its aggression on Gaza people and its violation of the international law.
The spokesman emphasized that his Movement would not surrender to the Zionist blockade and would be looking for alternatives to break it and end the suffering of Gaza people.
In another context, the Hamas Movement and its office of public action initiated Saturday morning a major campaign to decorate the streets of Gaza in preparation for the celebration of the 22nd anniversary of its inception by late Sheikh Ahmed Yassin.
Outside the house of martyr Sheikh Yassin, Hamas declared today the launch of its preparatory activities for the celebration of its establishment 22 years ago which marks the 14th of December next week.
Hamas vowed in its statement that it would never forget its founder and its great memories, and would be adherent to the option of resistance until the liberation of the Palestinian land and Islamic holy places from the Zionist occupation.
For his part, Haitham Abu Ata, the director of Hamas public action office east of Gaza, said that the festival would be held in Al-Katiba Al-Khadra plaza in Gaza city and would be full of activities and surprises.