Palestine
Gazan Young Man Shot at Night Protest Dies of Injury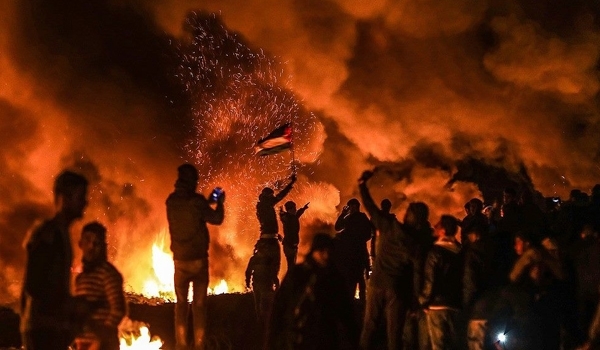 A Palestinian young man on Sunday morning died of a serious bullet injury he sustained during his participation in a nighttime demonstration staged on Saturday in a border area North of the besieged Gaza Strip.
24-year-old Habeeb al-Masri suffered a bullet injury in the chest when Israeli soldiers opened fire at protesters rallying at night North of Gaza, Palinfo reported.
Two other young men also suffered different bullet injuries in nighttime protests organized in Eastern border areas.
Organizers of nighttime demonstrations in the besieged Gaza Strip warned that they will escalate their activities along the border fence to pressure the Israeli occupation to lift its siege on the coastal enclave.
Israeli aircraft also targeted two Hamas positions in the Gaza Strip early on Sunday. There were no immediate reports of casualties, according to Al-Jazeera.
On Saturday, the Israeli army launched two separate air raids against groups of Palestinians in Gaza who had allegedly flown balloons rigged with explosives into Israel.
The United Nations Human Rights Council on Friday condemned Israel's "apparent intentional use of unlawful lethal and other excessive force" against civilian protesters in Gaza and called for perpetrators of all violations in the strip to face justice.
Tensions erupted in Gaza in late March 2018, which marked the start of a series of protests, dubbed "The Great March of Return", demanding the right to return for those driven out of their homeland. The clashes reached their peak in mid-May that year, the eve of the 70th anniversary of the Nakba Day (the Day of Catastrophe), which coincided with the controversial US embassy relocation from Tel Aviv to the occupied Jerusalem al-Quds. More than 270 Palestinians have been killed and more than 30,000 Palestinians injured by Israeli forces since the outbreak of the Great March of Return rallies at Gaza border.
The head of Hamas' political bureau Ismail Haniyeh has called for a mass turnout for border protests on the first anniversary of the demonstrations on March 30.