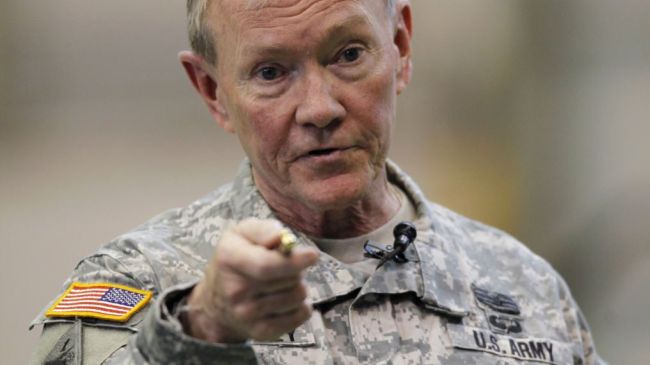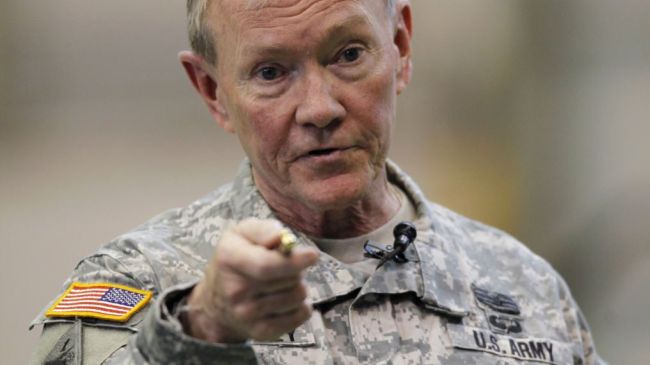 America's top military officer General Martin Dempsey arrived in Baghdad on Saturday on an unannounced visit to meet US commanders on expansion of assistance to Iraqi and Kurdish forces fighting ISIL terrorists.
The trip marked Dempsey's first visit to Iraq since the United States began its coalition airstrikes on ISIL Takfiri militants in Iraq in August.
Dempsey, the chairman of Joint Chiefs of Staff, said on Saturday that his trip aims to observe the situation closely and talk to military officers involved in the campaign in order to get a clearer picture of the situation on the ground.
"I want to get a sense from our side about how our contribution is going," Dempsey told the Reuters news agency shortly before landing in Baghdad. "I want to hear from those actually doing the lifting that they've the resources they need and the proper guidance to use those resources."
His visit came just two days after he told Congress that the US would consider sending more troops to Iraq to join the campaign against the ISIL.
"I'm not predicting at this point that I would recommend those [Iraqi] forces in Mosul and along the border would need to be accompanied by U.S. forces, but we're certainly considering it," Dempsey told the House Armed Services Committee on Thursday.
President Barack Obama authorized dispatching up to 1,500 forces to Iraq last week, which would approximately double the planned US troop presence.
US warplanes have been conducting airstrikes against ISIL in Iraq with some other Western states participating in some of the airstrikes in the country.
Since late September, the US and some of its Arab allies have been carrying out airstrikes against ISIL inside Syria without any authorization from Damascus or a UN mandate.