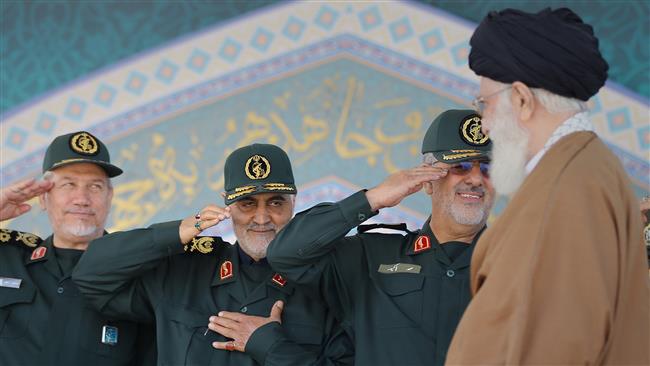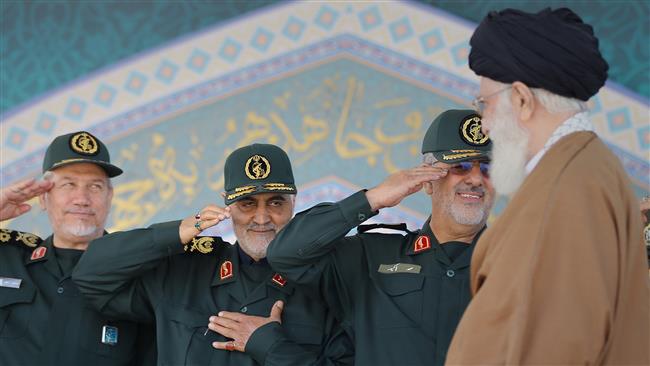 Major General Qassem Soleimani, who commands the Quds Force of Iran's Islamic Revolution Guards Corps (IRGC), has congratulated Leader of the Islamic Ummah and Oppressed People Sayyed Imam Ali Khamenei on the collapse of the Takfiri terror group Daesh in Iraq and Syria.
In a congratulatory message to the Supreme Leader on Tuesday, General Soleimani hailed the "great victory" over Daesh which was materialized thanks to the prudent leadership of Leader of the Islamic Ummah and Oppressed People Sayyed Imam Ali Khamenei and the sacrifices of all resistance fighters in Iraq and Syria.
Backed by popular groups and Iranian military advisors, armed forces in Iraq and Syria have managed to flush Daesh militants out of their last strongholds in both countries, declaring full victory over the notorious terror group.
Soleimani praised the steadfastness of the Iraqi and Syrian nations, governments, armies and popular forces throughout the counter-terrorism battles, paying special homage to the endeavors and struggles of Iraq's Popular Mobilization Units, better known as Hashd al-Sha'abi, in the offensive to annihilate Daesh.
The general also thanked Lebanon's Hezbollah resistance movement for its "powerful presence" and the pivotal role it played on the battlefield against terrorists in Syria.
Soleimani made reference to a long list of hideous crimes committed by Daesh during its "sinister" terror campaign, including mass beheadings, enslavements, and immolation of innocent people.
The Takfiri outfit, he added, managed to seize swathes of land in the two Arab states where it unleashed a crisis by radicalizing and recruiting thousands of youths.
The onslaught, he said, displaced millions of people and destroyed thousands of mosques and religious centers.
Soleimani further highlighted Washington's destructive role amid the regional fight against terror.
He said even the highest-ranking American official, the president of the United States, has acknowledged that all these crimes have been orchestrated and perpetrated by individuals and organizations with links to the United States, adding that US leaders are treading on the same path even now.
On Friday, Iraqi armed forces liberated Rawa near the border with Syria, which was the last remaining town under Daesh's control, and raised the Iraqi flag over its buildings.
Two days later, Syrian army soldiers, backed by pro-government fighters from popular defense groups, fully liberated Bukamal, Daesh's last stronghold in Syria, which is a strategic city in the country's eastern province of Dayr al-Zawr on the border with Iraq.
General Soleimani traveled to Syria to personally oversee the final stages of the Bukamal liberation operation.
The recapture of the two cities marked an end to Daesh's reign of terror, which started in 2014 with the group making vast territorial gains in a lightning offensive and establishing its self-proclaimed "caliphate" in Iraq's Mosul and Syria's Raqqah.