Europe
World News
German chancellor calls COVID-19 'biggest challenge since WWII'
German Chancellor Angela Merkel says the fight against the COVID-19 pandemic is the biggest challenge the country has faced "since the Second World War".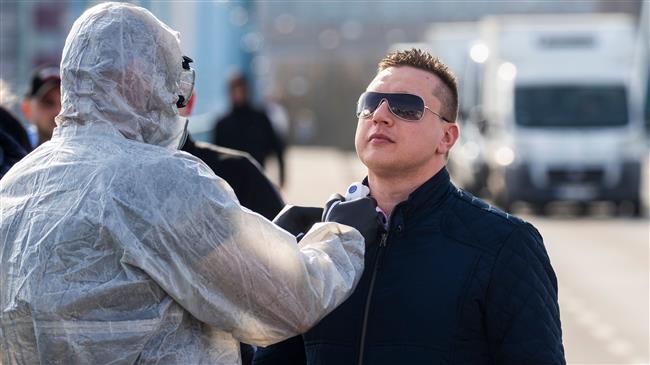 "The situation is serious. Take it seriously. Not since German reunification, no, not since the Second World War has our country faced a challenge that depends so much on our collective solidarity," Merkel said in a televised address on Wednesday.
In her dramatic appeal, Merkel called on every single German citizen to heed sweeping confinement measures and play a part in slowing down the novel virus that has struck the entire world and triggered unprecedented peace-time lockdowns.
"I truly believe we can succeed in this task, if all citizens truly understand their own tasks," she added.
Merkel, who hails from Germany's former communist East, said she understood how hard it was to give up "hard-fought rights" like freedom of movement and travel.
Such decisions were never taken lightly in a democracy, she said, and could only be temporary. "But they are necessary right now to save lives."
Merkel's televised speech was particularly significant as she had never taken to the airwaves to address citizens directly outside of traditional New Year's greetings despite having faced blows like the 2008 financial crisis, the 2015 refugee crisis and Brexit during her 15-year service.
Merkel's historic speech echoed that of French President Emmanuel Macron, who in a somber address on Monday likened the outbreak to war after ordering almost the entire population to stay at home for at least two weeks.
Macron suspends pension reforms, 'we are at war' with coronavirusFrench President Emmanuel Macron on Monday ordered stringent restrictions on people
Germany is among the countries worst hit by the coronavirus pandemic, with latest figures showing 12 deaths and 8,198 confirmed cases on Wednesday, a jump of 1,042 from the previous day.
Federal and local governments have shut down schools, many businesses and public spaces in recent days in increasingly desperate attempts to slow the spread of the virus.
The country has however stopped short of ordering people to stay home, in contrast with the tougher restrictions introduced in France, Belgium, Italy and Spain.
Yet Germans have continued to go outside to enjoy the spring sunshine and socialize, even holding "corona parties" as the authorities' struggle to hammer home the message that people must avoid social contacts.
Panic buying results in food rationing
The spread of the coronavirus has triggered panic buying across the world and while European countries have restricted travel, British companies say supply chains importing fruit, vegetables, meat and fish are so far still functioning.
In Britain, frantic shoppers have stripped shelves to prepare for possible isolation during the coronavirus outbreak. The panic buying has forced Britain's biggest supermarkets, Tesco, Sainsbury's and Asda, to limit purchases of pasta, toilet roll and long-life milk on Wednesday.
UK shoppers urged to stop panic buying as coronavirus toll risesBritain's food retailers appealed to shoppers on Sunday to stop panic buying amid the rising coronavirus toll in the country.
Reassurances from Prime Minister Boris Johnson, who has faced criticism for acting too cautiously, on Tuesday that there was no reason to stockpile went unheeded by spooked shoppers at supermarkets across the country.
Aisle after aisle was left empty, with just ice cream and chocolate Easter eggs remaining at many major stores, while huge queues snaked around some supermarkets, Reuters reporters said.
Also in the US, major chicken companies are diverting supplies to grocery stores from restaurants to meet red-hot demand as shoppers stock their freezers to the brim as they isolate at home.
In addition to redirecting supplies, some producers are adding shifts to slaughterhouse operations. Even so, speed-ups face one constraint: chickens don't grow any faster during a crisis.
Perdue Farms and Pilgrim's Pride said they are shifting chicken meat toward supermarket customers, after states ordered restaurants to shut dining rooms. Sanderson Farms plans to process more chicken for retail customers this weekend.
The companies are aiming to take advantage of frenzied buying and hoarding among shoppers who have picked store shelves clean of products ranging from packages of raw chicken in "tray packs" to pasta.