Europe
World News
German police clash with protesters at weapons plant amid Ukraine war
German police have used pepper spray and batons to disperse anti-war protesters who were were trying to block the entrance to a weapons factory in Kassel, arresting at least one.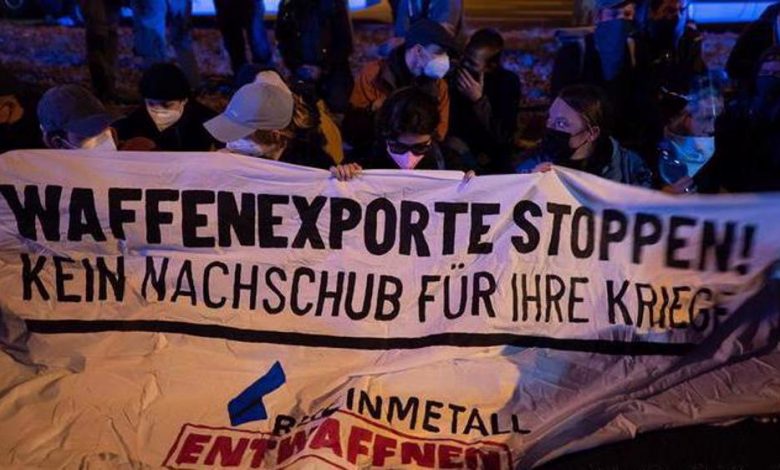 The protest on Friday was held by activists affiliated with the Disarm Rheinmetall movement, which have been calling for protest rallies across the European country in efforts to halt the production and delivery of German-made weapons, including arms destined for the ongoing war in Ukraine.
Rheinmetall AG is a German automotive and weapons manufacturer, headquartered in the city of Düsseldorf.
The protesters had sought to block morning shift workers from entering the factory of Rheinmetall's competitor Krauss-Maffei Wegmann. The group said it had succeeded in shutting down production at the facility for the day.
Protesters also marched through Kassel, where they encountered several more police blockades before heading towards the Rheinmetall building.
Activists posted photos of the protest on social media showing that the company officials had placed black tape over its signage, in an apparent attempt to prevent the appearance of its logo in photographs.
According to local press reports, the protest rallies are expected to continue through Sunday.
World's fifth largest arms exporter
Germany remains the world's fifth largest exporter of weapons, closely trailing China. In 2021, the German arms industry exported $9.34 billion worth of weaponry, marking a significant surge compared with pre-pandemic sales of $8 billion.
Among the country's most notorious weapons purchasers are the regimes of Israel and Saudi Arabia.
One of the protest organizers, Conni Lenert, slammed Rheinmetall and other German arms makers as "profiteers of human suffering" during an interview with the local TAZ daily.
Asked about the ongoing Ukraine conflict, another protest organizer, identified as Nina Kemper, insisted that "there is no such thing as a war for peace" as claimed by some Western suppliers of weapons to Kiev, adding, "There cannot be peace in our capitalist system" since so many people profit off the weapons trade.
Nearly 80% of Brussels families may be unable to pay energy bills
The development came as secretary general of the Belgian federation of social services, Celine Nieuwenhuys, declared on Friday that about 80 percent of households in Brussels may experience trouble paying for their energy bills.
"Brussels suppliers expect that 80 percent of Brussels households will have difficulty paying their bills," Nieuwenhuys emphasized, as quoted by Belgian broadcaster RTBF, noting that surging energy prices have put pressure on the country's social services.
According to the report, Nieuwenhuys's top concern is that public discontent will further escalate in the upcoming winter season.
Belgium is among the European Union member countries where the average price of electricity climbed by over 700 euros per megawatt-hour in August, according to the Nord Pool power exchange's data.
Federal officials, the report adds, hope to save energy through a number of measures. In particular, the temperature in state institutions during the cold period will be reduced to 19 degrees Celsius (66.2 degrees Fahrenheit).
Moreover, the lighting of federal buildings and monuments will be switched off from 07:00 p.m. until 06:00 a.m. and the Belgian southern province of Wallonia will consider suspending expressway lighting to save energy.