Europe
Germany maintains several common interests with Russia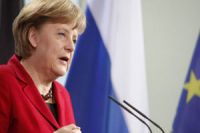 The German Chancellor, Angela Merkel, has said that her country maintains several common interests with Russia.
According to IRIB World Service, citing German state-run TV Network, Angela Merkel, in further remarks, called on the opponents of the Ukrainian government to lay down their arms and to evacuate governmental buildings.
Elsewhere, the German Foreign Minister, Frank-Walter Steinmeier, in an interview, reported on promising signs on the resolution of crisis in Ukraine.
The German foreign minister went on to criticize the stand adopted by the North Atlantic Treaty Organization (NATO), while casting doubts over the resolution of crisis in Ukraine through participation of NATO.