Europe
Germany opposes Zionist Israeli regime's settlement plans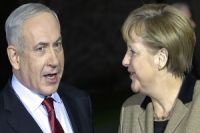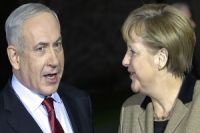 German Chancellor Angela Merkel has expressed her disapproval of the Israeli regime plans to build more settlements on the Occupied Palestinian Territories.
According to Press TV, she said at a joint press conference with Zionist regime's Prime Minister Benjamin Netanyahu in Berlin on Thursday: "On the question of settlements, we agreed that we disagree on this."
She added: "We in Germany believe the work on a two-state solution must be continued … we must keep trying to come to negotiations and one-sided moves should be avoided."
Netanyahu, however, said, that he was adamant on continuing with the settlement plans.
On November 30, Netanyahu ordered the construction of 3,000 new homes and the planning of thousands more in the occupied West Bank and East al-Quds.
The decision followed a United Nations vote on November 29 that recognized a Palestinian bid to be a "non-member observer state".
The Zionist settlements are considered illegal by the UN and most countries because those territories were captured by Zionist regime in a 1967 war, and are hence seen as being subject to the Geneva Conventions, which forbids construction on occupied lands.