Europe
Germany summons Iran's envoy over detainees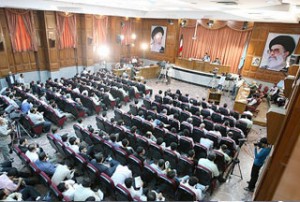 Along with some other European countries, Germany has summoned Iran's envoy to protest Tehran's detention of those accused of involvement in post-election unrest.
A spokesman for German Foreign Minister Frank-Walter Steinmeier said Wednesday that the Iranian ambassador was called to the ministry to hear Germany's concern over the imprisonment of protesters.
"In agreement with our European partners, we summoned the Iranian ambassador to once again express our concern and … to convey our expectation that the people jailed during trials should be released immediately."
Over the past two weeks, Iran has put on trial those allegedly involved in the violence sparked in the aftermath of the 10th presidential election, which saw incumbent Mahmoud Ahmadinejad win for a second term in office.
Among the defendants in the dock are well-known political figures, activists, local staff working for British and French Embassies in Iran as well as a female French academic, Clotilde Reiss.
The case of Reiss was also discussed in the meeting with the Iranian envoy, the spokesman for the German foreign ministry said.
Reiss, who was working in Iran as a lecturer in the Isfahan Technical University, was detained on July 1 in the course of post-election unrest that ensued Iran's election.
During her court address on July 8, she said that she had taken part in 'illegal protests' and had written to the French embassy and about 50 friends or members of her family about the country's post-election developments.
An unnamed government source in Iran told Press TV on Wednesday that the French Embassy has taken a step to free the detained French national.
"The French Embassy in Tehran has conveyed an official letter to Iran's Foreign Ministry accepting to provide bail and written guarantees asking for the release of Miss Clotilde Reiss."
Swedish Foreign Minister Carl Bildt said on Tuesday that his country had summoned the Iranian ambassador to protest the trial of those detained in post-election protests.
On Monday, Finland also called the Iranian envoy to the foreign ministry to protest the recent mass trials.
Tehran accuses Western countries — the US and Britain in particular — for instigating the post-election protests in Iran, calling on them to adopt a policy of non-interference towards the country.