Palestine
Middle East
Resistance Axix
Gilboa Jailbreak Heroes Meet Virtually, Joke Together
Palestinian heroes who escaped the high-security Gilboa prison met via video link and joked together during a court hearing in the Zionist entity.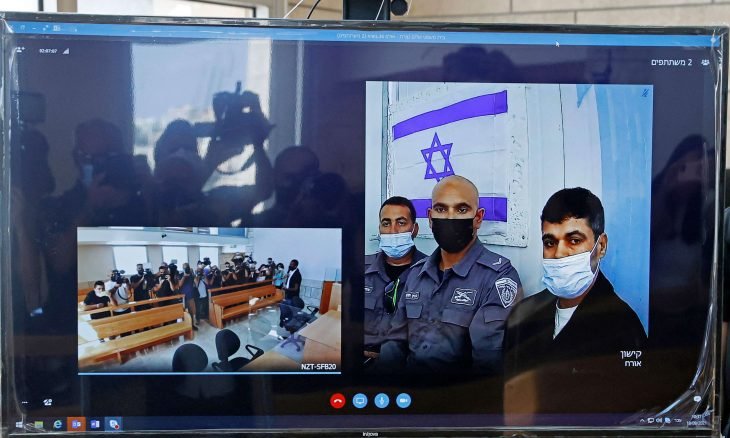 The escapees who were recaptured by the occupation forces earlier last month, had a meeting via Zoom video platform for the first time since their recapture. They appeared smiling and joking together in a video posted by Ramy Abdo, Chairman of the Euro-Mediterranean Human Rights Monitor, on his Twitter account on Monday (October 5).
In the video, one of the escapees, Ayham Kamamji appeared joking with another escapees, Mohammad Al-Arda.
Kamamji was nodding with four of his fingers, referring to the number of days Al-Arda he spent before being recaptured by occupation forces. Al-Arda responded to Kamamji by nodding with six fingers, while other escapees Yaqoub Al-Qaderi and Zakaria Zubeidi were watching them and smiling.https://english.almanar.com.lb/ajax/video_check.php?id=106757
Mahmoud Al-Arda, Yaqoub Qader, Mohammad Al-Arda, Zakaria Zubeidi, Ayham Kamamji and Munadel Infaiaat escaped Gilboa prison early in September through a tunnel they dug under the prison floor.
Four of them were recaptured after six days in the occupied territories (including Mohammad Al-Arda), while the other two, Kamamji and Infaiaat, were recaptured after two weeks in the West Bank city of Jenin.
The jailbreak was the first of its kind, as it caused chaos in the Zionist entity.