Awakening
Human Rights
North America
Global protests continue in solidarity with US anti-racist movement
More rallies have been held in several world cities against racism and police brutality in a show of solidarity with the 'Black Lives Matter' protests in the US, which broke out in late May in the wake of the brutal murder of George Floyd in Minnesota police custody.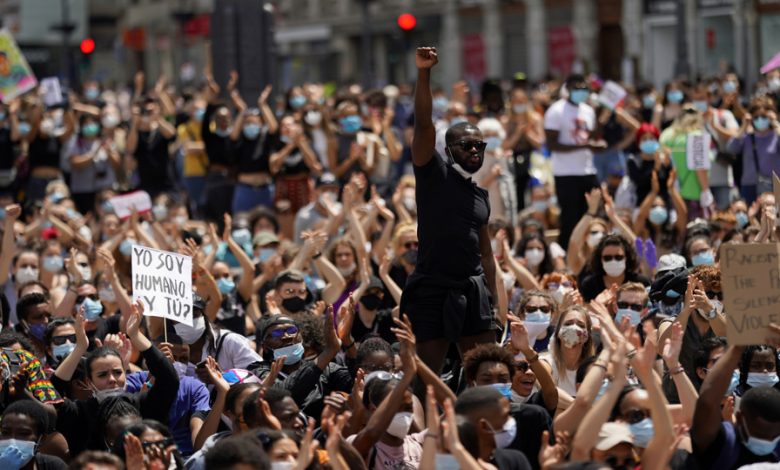 In parallel with the protests in US cities, people took to the streets for a second weekend in major cities in Europe and other continents to condemn systematic racism and police violence, demanding justice for Floyd.a
The 46-year-old unarmed black man died, struggling to breathe, while a Minneapolis police officer kept him handcuffed and pinned to the ground with a knee to his neck, on May 25.
Footage of the brutal police killing — captured by a bystander — went viral on social media quickly, triggering angry protests first in the US and then globally.
As in earlier protests, sit-ins were held in front of Washington's diplomatic missions in many cities around the world. Protesters carried signs that read 'Black Lives Matter,' or took a knee in memory of Floyd. At some gatherings, participants stood in silence for 8 minutes and 46 seconds, the duration Floyd struggled to breathe.
Italy
On Sunday, protesters gathered in large numbers in Rome's famous Piazza del Popolo (People's Square) as they held their fists in the air.
The demonstrators chanted "No Justice! No Peace!" "Black lives matter" and "I can't breathe."
They were seen taking a knee and observing moments of silent protest to commemorate Floyd's death.
The participants also listened to speeches and held up handmade placards saying "Black Lives Matter" and "It's a White Problem."
Spain
The streets of the Spanish cities of Barcelona and Madrid were also filled with protesters on Sunday.
Some 3,000 Spaniards gathered outside the US Embassy in Madrid, carrying signs reading, "Black Lives Matter," "Human rights for all" and "Silence is pro-racist.
The protesters were repeating Floyd's last words "I can't breathe" and chanting "No peace without justice."
Some protesters were holding placards against Trump.
"Here in Europe, in Spain, where we live, we work, we sleep and pay taxes, we also suffer racism," said Thimbo Samb, a spokesman for the group that organized the events in Spain.
Protesters in the Spanish capital also knelt on the ground raising their fists, a gesture initiated by American football player Colin Kaepernick in 2016.
They then marched on the iconic Puerta del Sol, in the heart of Madrid.
Britain
In London, thousands of protesters, who defied official warnings not to gather, congregated outside the US Embassy on Sunday.
Scuffles broke out between UK police and protesters, who were seen throwing projectiles at officers close to Downing Street in central London.
Some demonstrators were also seen kneeling in front of the officers, while others were chanting "The UK is not innocent."
A number of demonstrators held signs for US President Donald Trump, reading: "Black lives trump your ego, Mr. President."
In the British town of Bristol, protesters toppled a statue of Edward Colston, a 17th-century slave trader.
Cheers and roars of approval were heard from the crowd as the statue was being pulled down. Footage showed the statue was later thrown into the river.
Belgium
Around 10,000 people gathered in Brussels, home to the European Union headquarters, on Sunday afternoon, to add their voices to the demonstrations across the world.
A number of demonstrators climbed onto the statue of King Leopold II, a reminiscent of Belgium's colonial past.
Police fired tear gas and used water cannon to disperse people and made a number of arrests.
Smaller rallies were also held in the cities of Antwerp and Ghent.
Denmark, Hungary
The Danish capital, Copenhagen, also saw a huge demonstration by about 10,000 people, who gathered in front of the US Embassy for about an hour chanting "I can't breathe."
They later rallied through central Copenhagen towards the headquarters of the Danish parliament, where they listened to anti-racism speeches.
Hundreds of people also gathered in front of the US Embassy in Hungary's capital, Budapest, amid a heavy police presence.
Germany
German police said 93 people had been detained in connection with a demonstration a day earlier in the capital on the weekend.
They said several officers and one press photographer were injured in Berlin when the protesters threw rocks and bottles at the officers trying to clear the city's Alexander Square.
France
The French city of Marseilles was also the scene of similar protests and clashes on Saturday. Around 23,000 people joined protests across France.
In an interview with Le Telegramme daily published on Sunday, French Foreign Minister Jean-Yves Le Drian said violence against peaceful protesters and journalists was unacceptable, whether in the United States or elsewhere.
The top French diplomat stressed the right of people to demonstrate freely.
Thailand
In Thailand, people held a virtual demonstration on the video platform Zoom amid coronavirus-related restrictions on movement.
"Everyone has hopes, everyone has dreams, everyone bleeds red, you know," said Natalie Bin Narkprasert, an organizer of the online rally.
The protesters also observed minutes of silence in memory of Floyd.
Australia
Tens of thousands of protesters defied a government ban and gathered outside Town Hall in Sydney, Australia, on the weekend.
The crowd marched to the central station, stopping on the way to kneel down. Police ignored the crowds' appeal for them to also kneel.
The night before, the Supreme Court of New South Wales (NSW) ruled that any gathering of crowds as part of the protest would be illegal due to the coronavirus pandemic.
The organizers, however, took the ruling to the NSW Court of Appeal, who overturned the ban and declared the demonstration an "authorized public assembly."
Canada
In Canada's British Columbia, thousands of demonstrators gathered in Centennial Square in downtown Victoria Sunday evening for a vigil and peace rally in support of the 'Black Lives Matter' movement.
The protesters also called for an end to police mistreatment of indigenous people in Canada.
One of the organizers, Pamphinette Buisa, described the event as an opportunity to showcase voices from the black community.
"It's the first time that I have stepped foot publicly showing my face in this situation," Buisa said. "Now is a time for Victoria and the whole world to unify and that's what we're trying to do today."
Protesters in Montreal also took a knee during their rally against racial inequality and police brutality.
Brazil
In South America, Brazilians, in turn, held nationwide demonstrations against right-wing President Jair Bolsonaro, an admirer of the US president known as 'the Trump of the Tropics.'
The demonstrators denounced police violence both in the US and their homeland, an instance of which led to the death of a teenager in Rio last month.
South Africa
The South African Council of Churches (SACC) and other faith leaders held silent protests on Sunday, condemning the brutality of law enforcement officials both in the US and at home.
They commemorated Floyd and Collins Khosa, a South African man who lost his life in April in an altercation with soldiers and police.
"Faith leaders, alarmed by these developments, are gripped in lament and despair over the deaths of innocent people at the hands of law enforcement officers," according to a statement by the SACC.