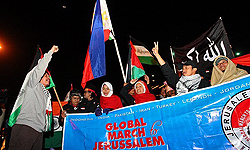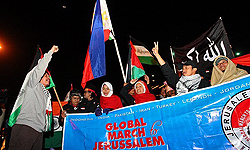 The members of the international convoy of the national committee of the Global March to Jerusalem (GMJ) arrived in Tehran on Friday night where they are due to meet with a number of Iranian officials and political figures.
After 6 days since beginning of GMJ Asian caravan to Jerusalem, the caravan crossed Iranian border. Passing through Zahedan, Kerman and Qom the caravan reached Tehran last night at 9 pm.
120 delegates of the caravan are preparing themselves to proceed towards Turkish border and then via Mediterranean sea dock at Beirut port on 27th March where the number will be increased to 250 delegates.
The caravan will meet with Iranian prominent figures during its stay in Tehran and an Iranian delegation of artists, poets, students and activists as well as some MPs will join the caravan.
"Although it was supposed to reach to Jordanian borders to join the 30th of March program but due to situation in Syria and Iraq, no land rout to the borders of Jordan was possible and available and the caravan has to follow the rout from Turkey to Lebanon" said Salim Qafouri, the head of Iranian nation GMJ board.
"There is no need to emphasize all the delegates are free to join any other surrounding country of Palestine on 30th march but as scheduled and announced before the Asian caravan is planning to join Lebanon program on 30th march 2012" he mentioned.
A large number of renowned figures from across the world have voiced their support for the upcoming Global March to Jerusalem due to take place on March 30th, 2012.
The Global March to Jerusalem will take place on Friday 30th March 2012 where hundreds of committees and campaigns all over the six continents will participate in order to highlight the suffering the people of Jerusalem are going through as a result of the occupation's Zionist and racist practices.
The slogan of the March will be "Peoples of the world demand the freedom for Jerusalem… People of the world demand to end the occupation of Palestine".