Middle East
Syria
Golan people and Syria Celebrate Freeing 27 year Prisoner al-Maqt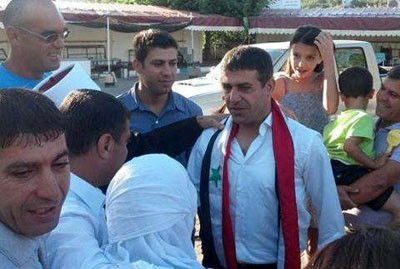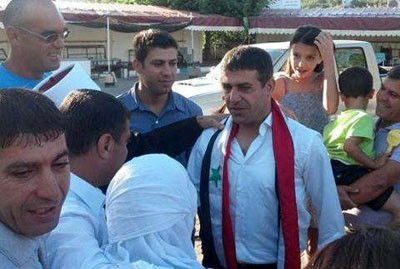 After 27 years of imprisonment on charge of resisting the Israeli occupation and belonging to homeland Syria, long-time prisoner Sudqi al-Maqt has been released to embrace freedom and be back in occupied Golan.
Al-Maqt was arrested on August 23, 1985 and was sentenced to 27 years in jail on the charge of resisting occupation. He moved into several jails theroughout the period of his imprisonment.
The released prisoner is from Majdal Shams in the occupied Syrian Golan. He was born in April 17, 1967 and was brought up within a family known for its struggle against the occupation in the Golan.
In a statement to SANA, al-Maqt saluted his homeland, Syria, and its great people, brave army and the wise political leadership with President Bashar al-Assad on top.
He reiterated resolve to continuing resistance against occupation after he returned to his family in the occupied Syrian Golan.
He stressed that the national unity and the brave Syrian Arab Army are a redline, adding that Syria will triumph against the conspirators.
Al-Maqt addressed the Israeli occupation with a message of challenge and steadfastness saying that he will support the resistance led by Damascus until the Israeli occupation is expelled from the Syrian Golan and security and stability are restored to the homeland.
Golan people Celebrate Freeing Prisoner al-Maqt
People of the occupied Syrian Golan on Wednesday celebrated freeing Dean of Syrian and Arab prisoners Sudqi al-Maqt after 27 years in the Israeli occupation's prisons.
Secretary of al-Baath Party Branch in Quneitra, Ghassan Khalaf, congratulated al-Maqt's relatives and all the Syrians in Golan, expressing pride in al-Maqt's triumph against all the Israeli practices which violate the human rights laws and agreements.
For his part, Governor of Quneitra Malek Mohammad said that al-Maqt has shocked the Israelis by his courage and steadfastness.
Bishr al-Maqt, Sudqi's brother and dean of the freed prisoners, said that his brother, like all the young men of Golan, has shown unparalleled dignity and belonging to Syria and challenged the Israeli jailors for years.
Freed prisoner Ali al-Younes, Chairman of the Committee for Supporting Golan Prisoners, said that " The sit-ins which were carried out for years in front of the Red Cross Committees and the UN Emergency Forces in Damascus and Quneitra showed the whole world that we never forget our prisoners who endowed torture and didn't bow to terrorism."
Ata Farhat, Syrian TV reporter in Golan and freed prisoner, said that al-Maqt represents a unique struggle experience through his activities in coordination with the Palestinian prisoners and his national writings which found their way to Arab dailies and newspapers and revealed the Israeli terrorist acts in and outside prisons.