Syria
Good News-Terrorists clash one another and over 1000 deaths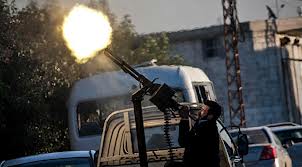 The elements "Free Army" militia is working in cooperation with elements of "al-Nusra Front" to mobilize fighters on the outskirts of Isharat Bustan al-Qasr in Aleppo to lead clashes with Syrian Army units that entered the neighborhood since 48 hours and even reached al-Isharat area.
The correspondent of Syria 24 English confirmed that the elements of "Sharia Board" affiliated with al-Nusra Front announced its control over the areas of al-Halek, al-Haidaria, Masakin Hanano, al-Sakhour and the industrial city following severe clashes took place between them and the elements of the "Ghorabaa al-Sham" for 5 consecutive days, which led to the deaths of more than 1000 members of Ghorabaa al-Sham.
Our reporter said that the militants will run their battle with the Syrian Arab Army under very sharp disputes racking between the leaders of the militia and the al-Nusra, and in the clear floundering among their ranks, as a result by cutting off supplies' routes by Syrian Arab Army units imposed a suffocating cordon over them in the region.
The "Sharia Board" has carried out field executions in the right of "Ghorabaa al-Sham", which its field commander is called Hasan Jazra still hiding.