Syria
Government troops thwart major terrorist attacks in Syria's Hama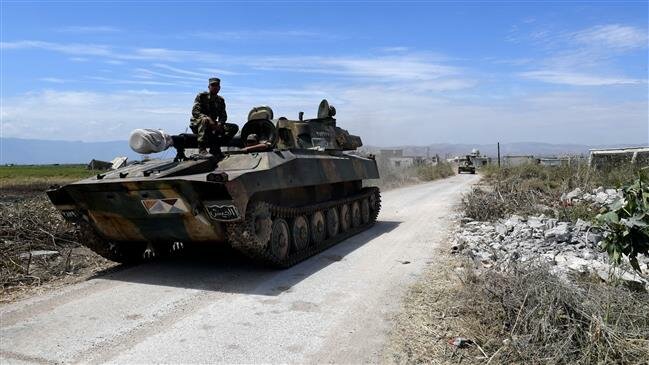 Syrian army forces have managed to frustrate a series of attacks by militants from the Jabhat Fateh al-Sham terrorist group, formerly known as al-Nusra Front, in the country's western-central province of Hama as they are engaged in joint counter-terrorism operations with allied fighters from popular defense groups against the extremists.
"On May 22 morning, Syrian government forces thwarted three massive attacks carried out by the Jabhat Fateh al-Sham terror group on the town of Kafr Nabudah. The attacks involved up to 500 militants, seven tanks, four infantry fighting vehicles, about 30 pickup trucks with large machine guns mounted on the back as well as two cars filled with explosives," the Russian Defense Ministry said in a statement.
The ministry further noted that Syrian government forces also repelled two militant attempts to break through defenses near the al-Hayrat district in the northern province of Idlib, which involved 200 terrorists, four infantry fighting vehicles and four pickups.
"During the fighting, Syrian troops killed more than 150 militants of the Jabhat Fateh al-Sham group, destroyed three tanks, 24 pickup trucks with heavy machine guns and two car bombs," it said.
Separately, foreign-sponsored Syrian militants positioned in the de-escalation zone of Idlib fired a barrage of missiles at Russia's main air base in the western coastal province of Latakia.