Iran
Middle East
North America
Qasem Suleimani
Great Satan US continues blame game against Iraq, says 'disappointed' over protection of forces
In yet another attempt to divert attention away from Iraq's call for US troop withdrawal, the White House has blamed Baghdad for recent mysterious attacks against occupying coalition forces inside the Arab country.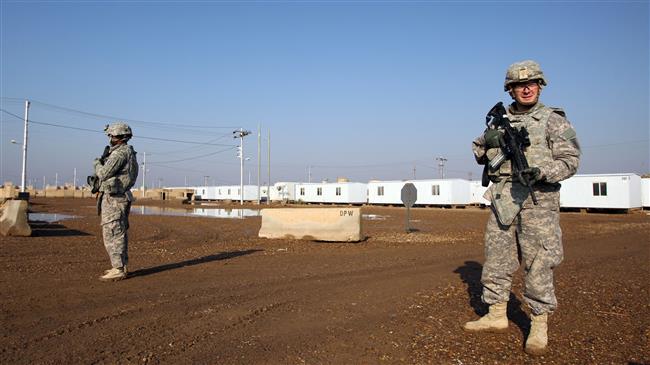 The United States has been "enormously disappointed" with the Iraqi government's performance in fulfilling its obligation to protect US forces, a senior State Department official said on Friday.
The Iraqi government has vowed to conduct full investigations into the rocket attack last week on US-occupied Camp Taji about 27 km north of Baghdad. The US claims that one British and two American personnel were killed in the attack.
Rocket attack hits US-occupied Taji base in Iraq for 2nd time in a weekFor the second time in a week, multiple rockets strike Iraq
The Iraqi government and officials have repeatedly called on the US to withdraw all its troops from the country, but the call has fallen on Washington's deaf ears so far.
Instead, the US has time and again targeted positions of Iraq's Popular Mobilization Units (PMU), also known as Hashd al-Sha'abi, after blaming on the major anti-terror force for rocket attacks. The popular group has strongly denied any involvement in the strikes.
Recently, a member of the Iraqi parliamentary security and defense committee accused the United States of staging a false-flag operation against Camp Taji in order to find a compelling justification for air raids on Hashd al-Sha'abi positions.
"The Iraqi government and the Joint Operations Command censured the repeated US aggression, but it is unlikely for the parliament to hold a session in this regard," Abbas Sarout said in an exclusive interview with Iraq's al-Ahad television network on March 15.
"Whoever struck Camp Taji is an unknown enemy, because neither resistance groups nor any other parties have claimed responsibility, and that the military base is protected by Iraqi security forces. The US targeting of security forces and the civilian airport in Karbala is considered to be a flagrant violation of the Iraqi sovereignty, which is condemned," he added.
The Iraqi military and the presidency condemned the US airstrikes which killed three soldiers, two police officers and a civilian.
They said the strikes were a targeted aggression against Iraq's official armed forces, and violation of its sovereignty.
Iraq will adopt different approach in case US troops refuse to withdraw: Badr bloc The already deep anti-US sentiment in Iraq has intensified since early January.
Iraqi lawmakers unanimously approved a bill on January 5, demanding the withdrawal of all foreign military forces led by the United States from the country.
The vote came after the US assassination of top Iranian General Qassem Soleimani, and his Iraqi trenchmate Abu Mahdi al-Muhandis in an airstrike authorized by President Donald Trump near Baghdad International Airport.
On Jan. 5, Iraqi cleric Moqtada al-Sadr said the parliamentary resolution to end US troop presence in the country did not go far enough, calling on local and foreign militia groups to unite.
"I consider this a weak response insufficient against American violation of Iraqi sovereignty and regional escalation," Sadr, who leads the largest bloc in parliament, said in a letter to the parliament.
The cleric added that a security agreement with the United States should be canceled immediately, the US embassy should be closed down, US troops must be expelled in a humiliating manner, and communication with the US government should be criminalized.
Also on the same day, the leader of a powerful political coalition in Iraq's parliament said US forces would be driven out of the Iraqi territory following the vicious, cowardly US operation.
"We will defeat Americans and drive them out, as we did earlier in the face of Daesh. We will expel Americans right before Iraqis' eyes as they will be frustrated and humiliated."
On Jan. 11, the Trump administration refused to recognize the call for troop pullout, saying that any discussion with Baghdad would only center on whatever force size the United States determined was sufficient to achieve its goals there.
"At this time, any delegation sent to Iraq would be dedicated to discussing how best to recommit to our strategic partnership — not to discuss troop withdrawal," the State Department said.
Iraqi lawmakers approve bill to expel US forces from countryThe lawmakers, in line with their national and regulatory responsibilities, singed the four-point draft.
Iraq's parliament on Jan. 5 voted to order the then prime minister, Adel Abdul Mahdi, to "work to end the presence of any foreign troops on Iraqi soil and prohibit them from using its land, airspace or water for any reason."
Within hours following the parliament's decision, Trump said US troops were not leaving and threatened sanctions against Iraq. He also demanded that Baghdad reimburse what he said were billions of dollars the United States had invested in a major Iraqi airbase which it is occupying.