Asia-Pacific
China
Economy
North America
Great Satan US delays tariffs on cellphones, laptops and toys from China
US President Donald Trump has delayed a 10% tariff set to be imposed on $300 billion of Chinese imports on Sept. 1.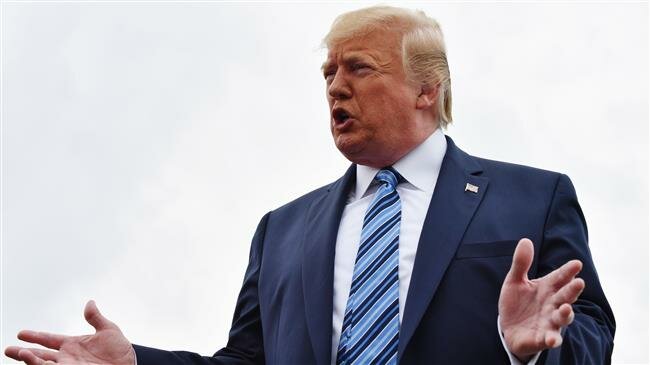 Speaking to reporters on Tuesday, Trump said he was delaying duties on "cell phones, laptop computers, video game consoles, certain toys, computer monitors and certain items of footwear and clothing" in order to blunt their possible effects on US holiday sales.
"We're doing this for Christmas season, just in case some of the tariffs would have an impact on US customers," Trump said in New Jersey. "Just in case they might have an impact on people, what we've done is we've delayed it so that they won't be relevant to the Christmas shopping season."
Meanwhile, US Trade Representative Robert Lighthizer's office announced that certain other products had been removed from the list of goods subject to the new tariffs, "based on health, safety, national security and other factors."
The announcement came just minutes after China's Ministry of Commerce said Vice Premier Liu He had a phone call with Lighthizer and US Treasury Secretary Steven Mnuchin.
Liu, Lighthizer and Mnuchin agreed to speak again by phone within the next two weeks, the ministry said.
Earlier in the day, Trump, however, took to Twitter, accusing China of failing to deliver on promises it had made in ongoing trade talks.
As usual, China said they were going to be buying "big" from our great American Farmers. So far they have not done what they said. Maybe this will be different!— Donald J. Trump (@realDonaldTrump) August 13, 2019
Trump initiated what is effectively a trade war with China last year, when he first imposed unusually heavy tariffs on imports from the country. Since then, the two sides have exchanged tariffs on more than 360 billion dollars in two-way trade.
Beijing, accusing Washington of practicing "naked economic terrorism" against the country, has opposed the US tariff hikes, saying they are harmful not only to China and the US, but to the whole world.
US officials misleading public about trade war: ChinaChina says American officials are lying to the public about the US-China trade war.
Beijing and Washington have held several rounds of talks to settle the issue, but to no avail so far.
US and Chinese negotiators met in Shanghai last month for the first time since bilateral talks on trade collapsed in May, and were due to hold another round next month.