Middle East
North America
Palestine
Great Satan US delivers five helicopters to zionist israeli regime to serve as spare parts
The US Department of Defense has delivered five Navy helicopters to Israel as part of a procurement effort to assist the Israeli air force's aging fleet of heavy helicopters.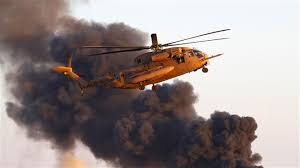 The Sikorsky CH-53 helicopters arrived at the Ashdod Port from Texas Saturday night following a weeks-long joint operation by the Pentagon's procurement department and the US Air Force.
The US helicopters were dismantled to serve as spare parts for the Israeli air force's fleet, which is slated to go out of service in 2025.
Israel purchased its fleet of Yasur, or Sikorsky CH-53 Sea Stallion, heavy transport helicopters from the United States in the late 1960s. The regime is now facing growing difficulty in finding spare parts for the aging fleet.
The Yasur fleet has been grounded since late November when one of the choppers caught fire due to a technical glitch and made an emergency landing in a field in southern occupied territories.
The Israeli air force is planning to replace the aging helicopters, but has yet to decide on a suitable aircraft. In the meantime, it needs a supply of spare parts to keep its current fleet operational.
"As soon as the Air Force was assigned to the mission, we started looking for helicopters to meet the appropriate profile and operational needs," Avi Meshiach, head of the US Air Force Procurement Division, was quoted as saying by the Israeli media.
"We located five American Army surplus helicopters that met the requirements, and immediately began to work to get all the helicopter purchase permits for spare parts and for shipping them from Houston, Texas, thousands of miles to Israel."
An Israeli comptroller report in March found serious deficiencies in the air force's helicopter fleet, warning that continued use of the 50-year-old aircraft beyond their recommended flight hours could erode the air force's core capabilities.
The US and Israel signed an agreement in September 2016 to give Israel $38 billion in military assistance over the next decade, the largest such aid package in US history.
The military aid to Israel represents a significant portion of the Israeli air force.
Early this month, a bipartisan group of lawmakers introduced a resolution seeking to bolster US military aid to Israel against mounting criticism by some progressive Democrats.
Over the past year, a group of female progressive Democrats known as the "Squad" has been increasingly open in their criticism of US military assistance to Israel in the face of the "massacre" of Palestinians.