Latin America
North America
World News
Great Satan US government working to increase pressure on Venezuela
The United States administration and Congress are working to increase pressure on the government of Venezuelan President Nicolas Maduro by introducing new sanctions and enticing Venezuelan officials to defect to an opposition figure.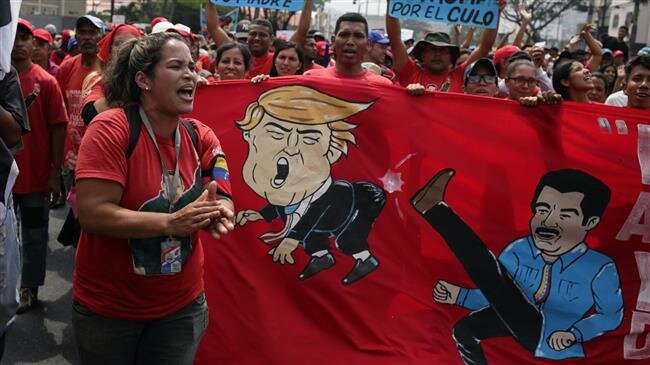 Larry Kudlow, the top White House economic adviser, claimed in a press conference on Wednesday that the US would pump dollars into the Venezuelan economy once it "gets rid of" Maduro.
Kudlow said Washington was already working with banks and the International Monetary Fund (IMF) on a plan to improve Venezuela's economy.
"We call it Day Two. It would be a rescue plan, it would be a restructuring plan, it would be a plan to put cash into the country," he said at the briefing, which was arranged by The Christian Science Monitor weekly.
"The timeline is to get rid of Maduro. I have no idea when that is going to be," added Kudlow, who is director of the US National Economic Council.
He said that once Maduro is gone, Washington would provide Venezuela with immediate economic assistance, beginning with pushing the US currency in to reignite economic activity, moving it via "banks, iPhones, and apps."
"The cash will not be bolivars. It will be dollars, at least at the beginning. There is no demand for bolivars. Dollars are the answer," Kudlow claimed.
Venezuela has been in political chaos since opposition figure Juan Guaido declared himself "interim president" late in January. Guaido has received backing and encouragement from the US government along the way.
Senate 'aid'
Also on Wednesday, a bipartisan group of 15 US senators introduced legislation — the so-called the Venezuelan Emergency Relief Democracy Assistance and Development (VERDAD) Act — to authorize 400 million dollars in new humanitarian aid to the Latin American country.
It was not clear who the supposed aid would go to. Venezuela blames the US for the country's economic and political difficulties and has previously refused to take aid from Washington.
The act simultaneously encourages other countries to impose sanctions on Maduro's administration and ease penalties on the Venezuelan officials who recognize Guaido.
Guaido cancels event in Caracas
Meanwhile, Guaido canceled an event scheduled to be held by and for his supporters in the Petare neighborhood of the capital, Caracas, on Wednesday, while opposition supporters were waiting for him. The main access to the district was reportedly blocked by police.
US to use all tools to make Russia leave Venezuela: Pompeo
Meanwhile, US Secretary of State Mike Pompeo said that Washington would resort to all means in an attempt to force Russia out of Venezuela, days after Moscow confirmed the dispatch of military experts to Venezuela under a defense deal signed in 2001.
"President Trump's made clear that we're prepared to do what it takes to get the Russians to leave. I think he said it precisely that way," he said during an interview with the Hugh Hewitt Show on Wednesday.
Russia opens helicopter pilot training center in VenezuelaTwo Russian planes have already been deployed to Caracas.
Late last month, Russia's sole state arms exporter Rosoboronexport said that it had opened a training center for military helicopters in Venezuela.
Russia and China — like many other countries — back the elected government of Maduro, who has called Guaido a "puppet" of Washington.
Russia, a close ally of Venezuela, vocally opposes US measures against Venezuela and accuses Washington of attempting to organize a coup there in violation of the United Nations Charter.
US extends ban on lawsuits against foreign firms in Cuba
Also on Wednesday, Pompeo announced that the White House had extended by two weeks a ban on US lawsuits against foreign firms conducting business in Cuba, without giving a reason for the move.
"Secretary of State Michael R. Pompeo announced his decision to continue for two weeks, from April 18 through May 1, 2019, the current suspension with an exception of the right to bring an action under Title III of the 1996 Cuban Liberty and Democratic Solidarity (LIBERTAD) Act," said State Department spokesman Robert Palladino.
The US move seems to be aimed at punishing Havana over its full support for Maduro and not following Washington's suit in recognizing Guaido's self-proclamation.
Venezuelan meets with Hezbollah leader
Separately, Venezuela's Foreign Minister Jorge Arreaza, who is on a tour of the Middle East, met with the leader of the Lebanese resistance movement of Hezbollah, Sayyed Hassan Nasrallah, on Wednesday night.
Venezuela FM takes Middle East tour, to meet NasrallahVenezuela's foreign minister goes on a Middle East tour taking him through Turkey, Lebanon, and Syria.
Earlier in Lebanon, Arreaza had met with Lebanese President Michel Aoun and Foreign Minister Gebran Bassil.
Arreaza later flew to Syria, where he met with his Syrian counterpart, Walid al-Muallem, in the Syrian capital, Damascus, on Thursday morning. Arreaza plans to meet with Syrian President Bashar al-Assad later in the day.