North America
World News
Great Satan US ignored Moscow's nuclear war prevention pact
The United States has reportedly ignored a Russian draft joint declaration on how to prevent a nuclear war, amid rising tensions between the two sides who accuse each other of violating a landmark Cold War nuclear arms control treaty.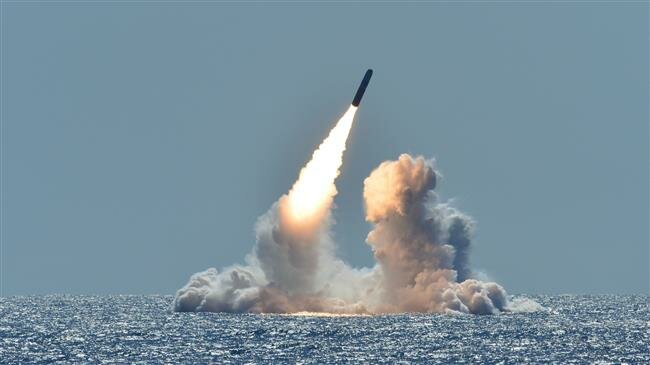 The Russian Kommersant daily newspaper said in a recent report that the Kremlin had sent the draft joint declaration to White House officials in October last year, when US President Donald Trump announced that Washington would walk away from the Intermediate-range Nuclear Forces Treaty (INF).
The INF was signed towards the end of the Cold War in 1987 by then American President Ronald Reagan and Soviet leader Mikhail Gorbachev and banned deployment of certain missiles with nuclear and conventional warheads.
"Nuclear war cannot be won and it must never be unleashed," Kommersant quoted the draft joint declaration as stating.
The Russian daily also quoted Kremlin spokesman Dmitry Peskov as saying that Moscow's other proposals to Washington included "strategic security and stability, cooperation in the fight against cybercrime, and so on," and that, "All these Russian initiatives and proposals were in effect left unanswered."
Russian Foreign Minister Sergei Lavrov had reportedly suggested a revival of the nuclear war avoidance pact ahead of US National Security adviser John Bolton's visit to Russia last October.
Trump announced on October 20, 2018 that Washington would abandon the INF over claims that Moscow had violated the pact.
The treaty banned all land-based missiles with ranges of 500 kilometers (310 miles) to 5,500 miles. The original ban between Moscow and Washington led to the elimination of 2,692 missiles.
Trump suspended the INF treaty in February and threatened full withdrawal in six months unless Russia dismantles the 9M729 ground-launched cruise missile, which Washington believes is in violation of the INF.
Russia has rebuffed US claims by showcasing the missile to journalists and revealing many of its sensitive specifications to ensure the international community that the Trump administration is being dishonest.
Russian President Vladimir Putin has since signed a decree, suspending Moscow's participation in the nuclear arms treaty in response.
Moscow has urged the US to work towards preserving the deal of violating it, warning that a withdrawal from the accord would trigger a nuclear arms race
Russia's Deputy Foreign Minister Sergei Ryabkov has said that Washington's withdrawal from the INF treaty poses a threat to the international security and the system of arms and nuclear arms control.
Relations between the West and Russia remain tense over the Ukrainian crisis, the conflict in Syria, and the allegations of Russian interference in the US presidential poll in 2016.