Bahrain
Iran
Middle East
North America
World News
Great Satan US-led Persian Gulf naval coalition launches operations in Bahrain
The International Maritime Security Construct (IMSC), a US-led military coalition in the Persian Gulf, has officially launched its operations supposedly seeking to protect shipping lanes near Iranian territorial waters.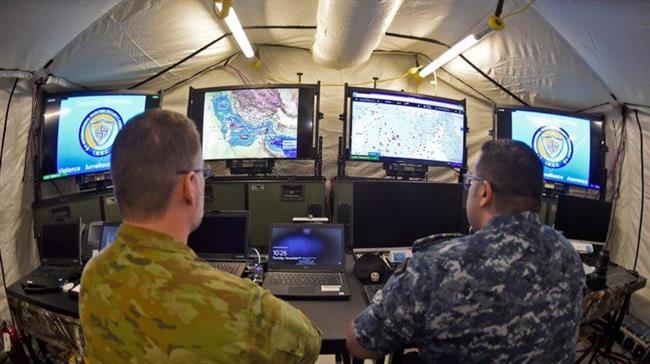 The US Fifth Fleet based in Bahrain announced that the IMSC, formerly known as Operational Sentinel, had opened its command center in the country on Thursday.
Speaking about the IMSC, commander of the US Naval Forces in the Middle East Vice Admiral Jim Malloy said that its operations will continue "as long as the threat looms," without further elaborating on the supposed "threat."
"We employ capable warships on patrol, but there is no offensive line of effort in this construct, other than a commitment to defend each other if attacked," he said.
The development comes nearly five months after Washington announced that it was seeking to form a "multinational maritime effort" in response to a series of mysterious explosions targeting vessels in the Persian Gulf and the Sea of Oman earlier this year.
The US and Saudi Arabia were quick to blame Iran for the incidents without providing conclusive evidence.
Washington announced a deployment of 1,000 additional troops in the region following the attacks.
Iran has roundly rejected the accusations, emphasizing its commitment to regional maritime security and its importance in safeguarding international trade.
'Iran historical steward of maritime security in region'President Hassan Rouhani underlines Iran's historical role as a preserver of maritime security in the region.
Tehran has hinted that the attacks may be part of a scenario orchestrated by Washington and its regional allies in a bid to rally international pressure against Tehran.
Being widely seen as an anti-Iran coalition, many of Washington's key allies, such as Germany, France and Japan have also rejected Washington's call to take part in the operation.
Allies snub US on Persian Gulf military 'mission': ReportsThe US request to build a "coalition" against Iran in the Persian Gulf has been met with either silence or rejection, including a blunt "no" from Germany, the New York Times reports.
Among Washington's Western allies, only Australia, Britain and Albania have pledged to deploy forces along with participating regional countries Saudi Arabia, the United Arab Emirates and Bahrain.
Why Albania?
Albania, which is not known to have any apparent interests in the Persian Gulf, is the latest country to join the US-led coalition on Friday.
The country ranks among the countries with the lowest Gross Domestic Product (GDP) in the European Union and is known to have a navy force limited to a small number of patrol vessels.
However, it hosts a sprawling camp for some 3,000 members of the anti-Iranian Mujahedin Khalq Organization (MKO), a largely defunct terrorist group Washington and Riyadh have sought to revive in recent years in a bid to destabilize Iran.
Following two mysterious explosions targeting oil tankers in the Sea of Oman in June, an audio tape leaked from the MKO suggested that the group may have cooperated with Saudi Arabia in the incidents which were blamed on Iran.
'Saudis, MKO colluded on Persian Gulf explosions'Leaked audio shows Saudis colluded with the terrorist organization in the explosions.
Albania's participation raises further questions about the purpose of the mission, including whether the US and Saudi Arabia have asked the impoverished country to participate in the coalition at their cost so that MKO terrorists can be used for possible acts against Iran.
'Red Sea oil routes unsafe'
On Wednesday, The Wall Street Journal reported that Iran had sent a letter to the International Maritime Organization (IMO) warning that commercial routes in the Red Sea, west of Saudi Arabia, are unsafe following three attacks on its tankers in recent months. Iran's SABITI tanker was hit by two missiles near the Saudi port city of Jeddah, marking the most recent attack last month.
"We believe that this is an attack organized by one or more states, since two other Iranian flagged [very large] tankers were similarly attacked in the same approximate area" and with " similar damages to the ships," the letter, dated October 30, read.
The letter went on to explain that Iran's Happiness-1 and Helm tankers had also been sabotaged in April and August, respectively.
"A major concern in this respect is that the organized and directed pattern of these attacks within a short time and similar locations have rendered the Red Sea as an unsafe route for ships to adopt for their voyages," it added.
Iran has not blamed any specific actor for the attacks. Last month, Iranian President Hassan Rouhani said that "a regime with the help of some regional countries" had orchestrated the assault on SABITI without providing any further information.
Rouhani added that investigations regarding the incident were ongoing. Iran has warned of a "harsh response" against those behind the incident.
'Iran to give harsh response to those behind tanker attack'A senior Iranian official says the country will give a harsh response to those behind a recent attack on an Iranian tanker in the Red Sea.
Despite Washington and its allies' bid to ratchet up pressure against Tehran, Iran has sought to resolve regional tensions by proposing the Hormuz Peace Endeavor (HOPE).
The initiative seeks to guarantee peace in the Persian Gulf region by encouraging cooperation between regional states and rejecting foreign intervention.
Kuwait 'relays Iran's messages to Saudi Arabia, Bahrain'Kuwait says it has passed on Iran's messages to Saudi Arabia and Bahrain regarding the situation in the Persian Gulf region.
In a related development on Tuesday, Kuwait said that it had passed on a message from Tehran to Bahrain and Saudi Arabia regarding the situation in the Persian Gulf without further elaborating on the letter's content.