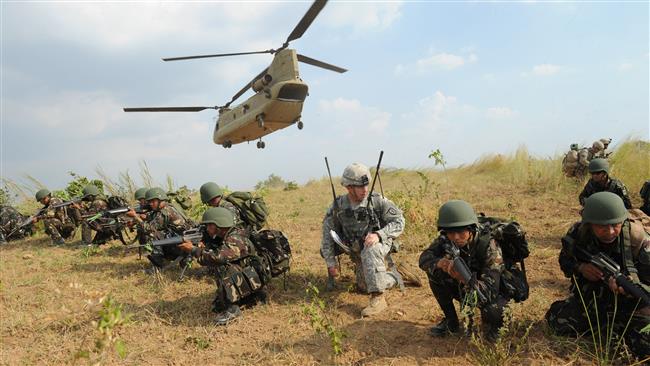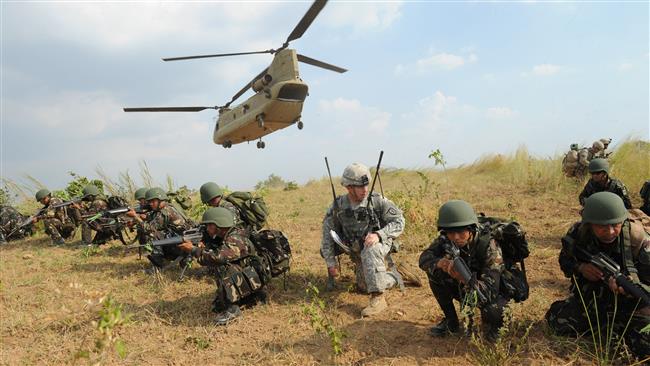 The United Sates and Philippines will kick off an eleven-day military drill not far from the South China Sea.
The joint war games dubbed Balikatan (shoulder-to-shoulder) will be launched on Monday, AFP reported on Saturday.
Thousands of US and Philippine soldiers are set to take part in the exercises with at least 55 American aircraft, according to Balikatan spokesman Captain Celeste Frank Sayson. Philippines will also deploy fighter jets it has recently acquired.
While Beijing has formerly warned other countries about the actions that could harm China's sovereignty, the US and Philippines insist that the war games are not explicitly aimed at China.
The Philippines will hold the drills as it is preparing to host US troops in at least five military bases, including one facing disputed islands in the South China Sea, under an agreement with Washington.
The 10-year military pact was signed by the US and the Philippine government in Manila in 2014, but was approved by the Philippine Supreme Court in January this year.
It would allow the US to rotate more forces and military assets through the Southeast Asian country.
The US has long been trying to increase its influence in the Asia-Pacific region to step up surveillance over China. Its military warships have been sailing within some nautical miles off China's artificial islands several times. Advanced US spy planes have also been deployed to airbases in the neighboring countries.
China, which claims sovereignty over nearly all of the South China Sea, has been building artificial islands in disputed parts of the sea.
The US accuses Beijing of carrying out what it calls a land reclamation program in the South China Sea by building the islands in the disputed areas. Beijing, however, accuses Washington of meddling in the regional issues and deliberately stoking tensions in the South China Sea