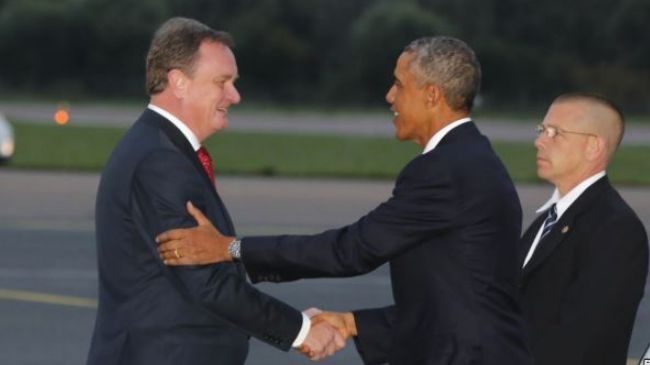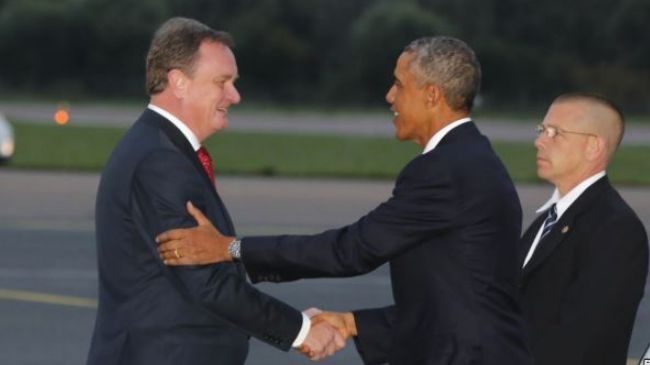 US President Barack Obama has arrived in Estonia to meet with the leaders of Baltic States amid Washington's escalating tensions with Moscow over Ukraine.
Obama arrived in the capital of the small Baltic nation Tallinn early Wednesday.
The US president is set to meet with Baltic leaders Wednesday ahead of a NATO summit that begins in Wales on Thursday.
The NATO meeting will focus on the crisis in Ukraine.
Ukraine is not a NATO member, but the alliance has established a NATO-Ukraine Commission to give the country a seat with Western leaders.
"Part of the reason I'll be going to Estonia is to let the Estonians know that we mean what we say with respect to our treaty obligations," Obama said last week.
The White House announced last week that Obama's trip to Europe is a warning to Russian President Vladimir Putin against "messing around" with the Baltic States.
"Part of the message that the president will be sending is, we stand with you," said Charles Kupchan, the administration's senior director for European Affairs.
"Article Five constitutes an ironclad guarantee of your security. Russia, don't even think about messing around in Estonia or in any of the Baltic areas in the same way that you have been messing around in Ukraine," he added.
He was referring to NATO's Article Five that obligates all members of the alliance to come to the defense of any member country which is targeted.
In an interview with Press TV on Monday, American author James Fetzer said the US and its European allies would not be able to defeat Putin over the crisis in Ukraine because Moscow has lots of cards to play.
"Russia is not going to allow Ukraine to become a NATO nation or to fall into the hand of extreme anti-Russians," he said.
"Russia has lots of cards to play in relation to the pressures from the European nations for more sanctions, including its control of very large proportion of gas that is supplied to those nations," the retired professor added.