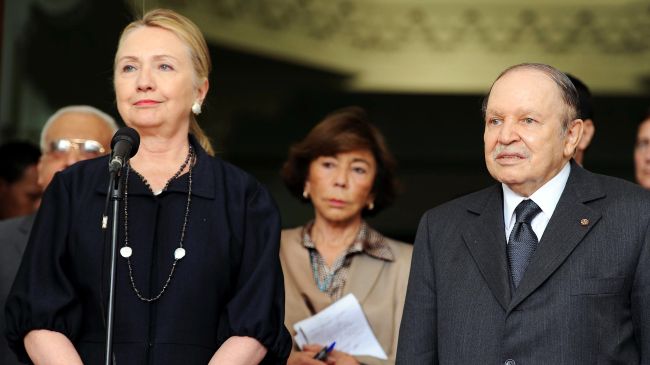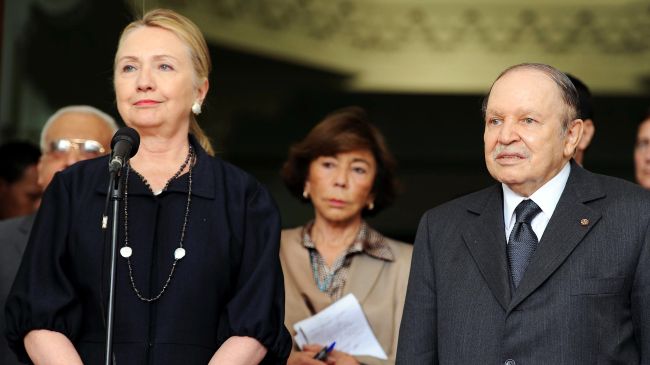 The US Secretary of State Hillary Clinton has met with Algeria's President Abdelaziz Bouteflika to pressure his country to lend support to a potential military intervention in northern Mali.
Clinton paid a one-day visit to the North African country on Monday, meeting with President Bouteflika to discuss northern Mali, which the US administration claims is under the control of 'radical insurgents,' the separatist Tuareg rebels.
Speaking after the meeting, Clinton told reporters that, "We had a[n] in-depth discussion of the region and particularly the situation in Mali."
The two sides agreed to continue working with the United Nations and the African Union "to determine the most effective approaches that we should be taking," Clinton added.
The military officials of the US and France reportedly held a secret meeting in Paris earlier this month in a bid to draw a plan for military action in Mali to help the Bamako government fight the so-called al-Qaeda-affiliated radicals in the country's north.
This is while Algeria has repeatedly supported a diplomatic solution to the crisis in neighboring Mali.
On October 13, the UN Security Council unanimously adopted a resolution that gave West African nations 45 days to offer the details of a plan for a military intervention in Mali.
On October 24, the member states of the African Union agreed to finalize a plan for military intervention in Mali led by African forces by the end of October to help Bamako fight rebels.
Malian President Amadou Toumani Toure was ousted in a military coup on March 22. The coup leaders said the president had failed to fight the separatist movement of Tuareg rebels in the north.
UN Secretary General Ban Ki-moon has warned against a military operation, saying it would further affect millions of people in the region.
Once a detailed plan for military intervention in Mali is received from the Economic Community Of West African States (ECOWAS), the African Union and the United Nations, the Security Council would consider a second resolution to approve the move.