Korea
North America
Great Satan US, South Korea to resume drills despite danger to North Korea détente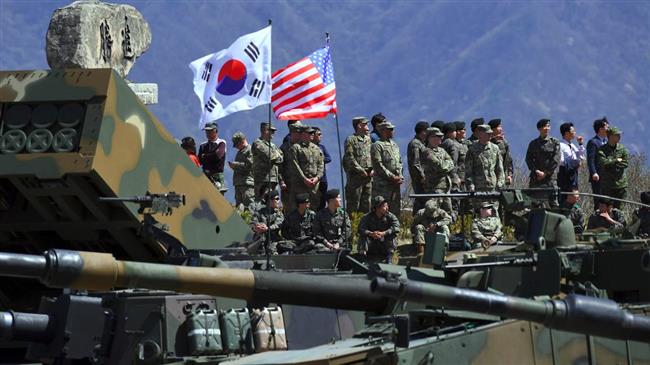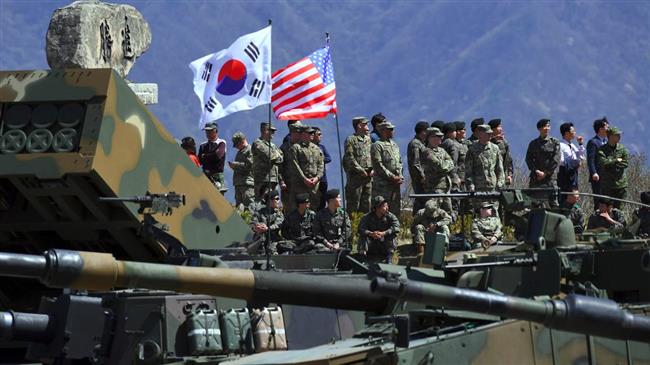 Hundreds of thousands of US and South Korean troops are to take part in massive annual war games on the Korean Peninsula, despite warnings by North Korea that the resumption of the drills would jeopardize a nascent détente between Pyongyang and Seoul.
Nearly 24,000 US forces as well as 300,000 South Korean military service members are set to participate in the Foal Eagle field military drills, due to begin on Sunday, Reuters reported Friday citing the US Defense Department.
The Foal Eagle has historically been two months long, but South Korea and the US have decided this year to scale down the drills to one month in what seems like a minor attempt at deescalation with Pyongyang.
The US and South Korea agree to scale down joint military exercises, a South Korean military source says, as chances increase for a diplomatic solution to the Korean crisis.
Japan's Defense Minister Itsunori Onodera, who welcomed the planned resumption of the joint war games on Friday, said, however, that the scale of the drills would be the same as past years.
"It's our understanding that the exercises will be of a similar scale to past years. In order to make North Korea respond properly, they play an important role," Onodera said.
Washington and Seoul had back in January postponed the annual war games to accommodate North Korea's then-upcoming participation in Winter Olympics in South Korea. North Korean athletes participated in the Games in a rare show of unity staged by the two Koreas, and diplomats from the two sides met to defuse tensions.
But Pyongyang warned at the time that the resumption of the drills with the US — which has extra-territorial presence in the region — would endanger the prospect of peace that had emerged with the Winter Olympics.
There was no immediate reaction by North Korea to the announcement by the Pentagon of the imminent launch of the drills.
Beginning in mid-April, the US and South Korea will also hold the computer-simulated Key Resolve drill, which will last for two weeks.
Tensions on the Korean Peninsula had been running high last year. Pyongyang advanced its weapon programs as the US took an increasingly war-like posture toward North Korea. But North Korean leader Kim Jong-un expressed sudden interest in the resolution of disagreements with the South on New Year's Day, and a series of overtures began.
A meeting has now been planned between Kim and South Korea's President Moon Jae-in.
US President Donald Trump has also said he plans to meet Kim sometime in May. There has been no official confirmation from Pyongyang of that meeting.