Europe
Great Satan US targets Iran's tourism; airlines halt service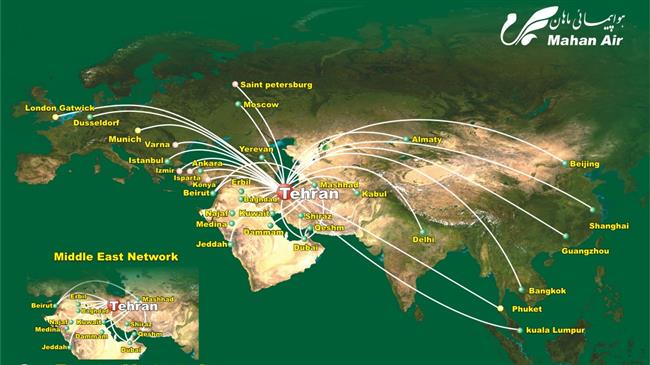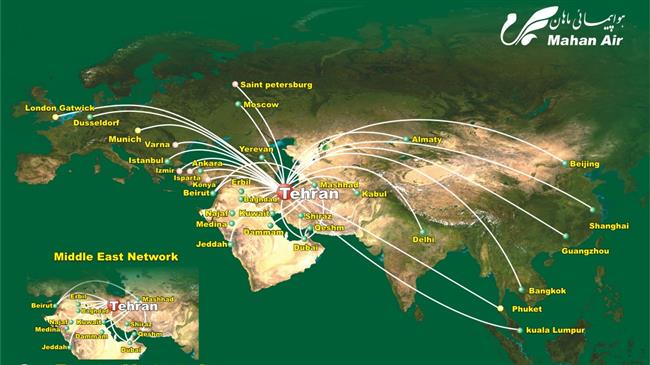 The US government says it has sanctioned a Malaysia-based tourism agent for Iranian private airline Mahan Air which is already under American sanctions.
The blockade comes as the US prepares to unleash "the strongest sanctions in history" on Iran after President Donald Trump decided to withdraw Washington from a landmark nuclear deal with the Islamic Republic.
"As a result of today's action, all property and interests in property of Mahan Travel and Tourism Sdn Bhd that are or come within US jurisdiction are blocked," the US Treasury Department said in a statement on Monday.
The first group of unilateral US sanctions on Iran's automotive sector, gold trade, and other industries will "snap back" on August 4. Further sanctions on oil and transactions with the Central Bank of Iran will come into effect November 6.
Trump has given companies 180 days to wind down their businesses in Iran or have their trade severed with the US.
Dutch airline KLM said on Saturday it had decided to suspend its direct flights to Tehran "for commercial reasons."
"As a result of the negative results and financial outlook for the Tehran operation, the last flight will take off from Amsterdam on 22 September 2018 and land at Schiphol on 23 September," it said in a short statement on its website.
KLM resumed flights to Tehran in 2016 when the nuclear agreement signed between Iran and world countries came into effect. The Dutch airline had ceased its Iran operations in 2013 after the West intensified sanctions on the Islamic Republic.
Austrian Airlines also announced on Friday that it will stop service to the Iranian cities of Isfahan and Shiraz, starting in September, but will continue its flights to Tehran.
"The underlying reason for these changes in the route network is a realignment of the airline's portfolio," a statement said on the official website of Austrian Airlines which is owned by the  German airline company Lufthansa.
Austrian Airlines announced its expansion of flights to Shiraz and Isfahan in 2015, 2016 and 2017.
German airliner Lufthansa and its subsidiary Austrian Airlines plan new flights to Iran amid a growing demand as business and tourism is crawling back to life in the resource-rich country, media reports say.
The exodus of European companies is a blow to their governments' efforts to keep Iran in the nuclear agreement.
Europe has pledged to put together an economic package for Iran so that the country benefits from staying in the deal but France said on Friday the offer was unlikely to come by before November.
Germany's Foreign Minister Heiko Maas also said the Europeans would not be able to fully compensate for companies leaving Iran due to new US sanctions.