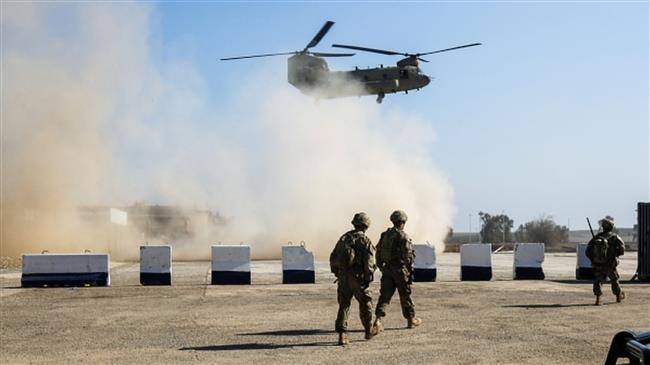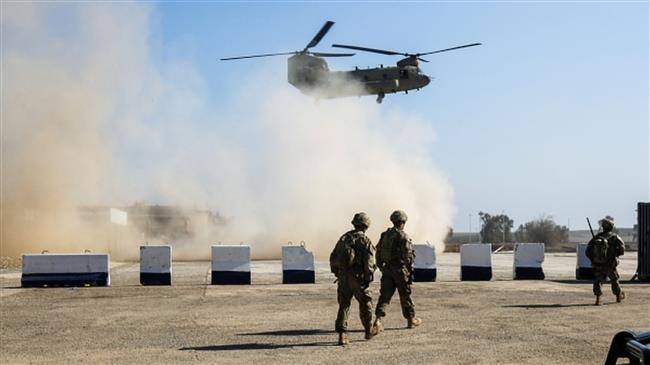 New reports says the United States will open new bases in Iraq and Kuwait in defiance of widespread calls to end its military presence in the region.
The Erbil-based BasNews reported on Friday that the US is planning to inaugurate its third military base in Iraq, near the town of al-Qa'im in western Anbar Province bordering Syria.
The report quoted a source from Anbar Province as saying that the new American facility will join the already operating US airbases in Iraq, namely Ain al-Assad in Anbar and Habbaniya, both in Anbar.
The source also noted that the new base will oversee several Anbar cities, the western desert of Iraq and the strategic international road connecting Baghdad to Damascus.
The US, strongly backed by the UK, invaded Iraq in 2003 under the pretext that the then regime possessed weapons of mass destruction. No such weapons, however, were ever found in the Arab country.
More than one million Iraqis were killed as a result of the US-led invasion and the subsequent occupation of the country, according to the California-based investigative organization Project Censored.
The invasion plunged Iraq into chaos and led to the rise of terrorist groups.
The US and a coalition of its allies further launched a military campaign against purported Daesh targets in Iraq in 2014, but their operations in many instances have led to civilian deaths.
A senior commander of Iraq's Popular Mobilization Units (PMU) says since Daesh has been defeated in the country there is no need for the presence of US troops.
Iraqi officials have in numerous occasions called on the US-led coalition forces to withdraw from their homeland.
Separately on Friday, Kuwait's al-Rai newspaper reported that the US will soon open a major military air hub near the country's international airport.
Citing a statement from the US command in Kuwait, the Kuwaiti daily said the facility is intended to serve as a strategic military logistics supply point and the largest aerial port of debarkation in the Middle East.
The facility, the statement said, is further meant to fill the gap until the opening of West Al-Mubarak Airbase in Kuwait in 2023.
"Once finished, the total functional space at 'Cargo City' will feature an area of nearly 33,000 square meters," said Captain Sean Murphy, a civil engineering flight officer in charge of the $32 million project.
"We are optimizing our workspace by reducing our footprint from 230,000 square meters, excluding the flight line," he added.