Europe
Greece charges Golden Dawn members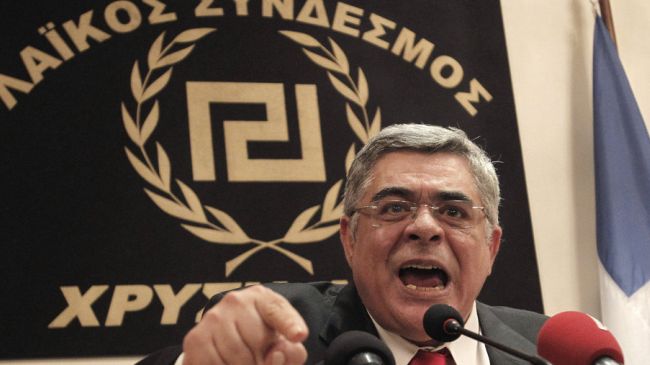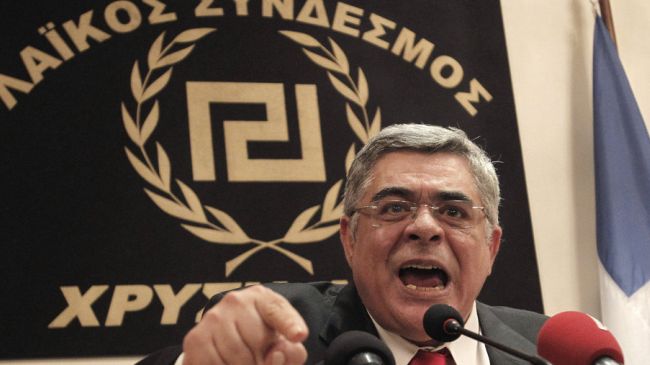 The leader of Greece's Golden Dawn Party and four other members have been formally charged with having ties to a criminal organization.
On Saturday, a court in the Greek capital, Athens, charged Dawn leader Nikos Michaloliakos, its spokesman Ilias Kassidiaris as well as Yannis Lagos, Nikos Michos and Ilias Panayiotaros.
The Dawn members were arrested earlier in the day for their alleged role in the killing of an anti-fascist musician.
Thirteen other Golden Dawn members and two Greek police officers are to appear before a prosecutor and an examining magistrate, where they face the same charges.
Police spokesman Christos Pagonis said that the counterterrorism force was still searching for two additional Golden Dawn figures, including parliamentarian Christos Pappas and one more senior party official.
This is the first time sitting members of the Greek parliament have been arrested since 1974.
The far right party has denied any connection in the killing of Pavlos Fyssas and it has warned that its 18 parliamentarians will resign from parliament if the crackdown continues.
The arrests came after the Greek government ordered an investigation into the party's activities following the fatal incident, which triggered a wave of protests across Greece.
Golden Dawn supporter George Roupakias has admitted that he stabbed Fyssas outside a café in Keratsini, western Athens, on September 18.
Meanwhile, Golden Dawn has seen its support tumble since the stabbing. Two opinion polls published earlier this week showed its popularity has fallen to 6.7 to 6.8 percent compared to 14 percent prior to the fatal incident.
Political analyst Theodore Couloumbis said, "Golden Dawn has indeed been losing ground at the polls since the man's murder and I expect them to continue to lose ground. This is the beginning of the end for Golden Dawn."
Golden Dawn entered the parliament in 2012 and has been accused of committing several attacks on migrants and political opponents, such as destroying the market stalls of several immigrant merchants.
European officials and human rights groups say Greek authorities should have banned Golden Dawn even prior to the killing, with the European Commission on Human Rights (ECHR) describing it as a "neo-Nazi and violent political party" that should be secluded.