Europe
Greek parl. passes bill, eying aid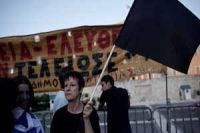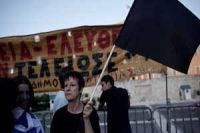 Greece's parliament has voted for a law to meet a last condition for receiving 2.5 billion euros ($3.3 billion) in financial aid after experiencing the sixth year of recession.
On Thursday, lawmakers passed the bill, which places civil servants in a labor mobility plan. The plan was demanded by the country's international lenders to release the next bailout installment.
The plan reportedly subjects public sector employees to involuntary transfers, and possible dismissals.
The Greek government has imposed tough austerity measures in order to control its high debt to the so-called international troika — the International Monetary Fund (IMF), the European Central Bank (ECB), and the European Commission (EC).
On Wednesday, health sector workers went on strike in Greece to protest against government plans to lay off thousands of employees.
Hospital staff members were outraged when the Greek government said it intends to turn at least five public hospitals in Athens into health centers that will focus on chronic illnesses earlier this month in order to cut spending.
Greece has been at the epicenter of the eurozone debt crisis, and the harsh austerity measures adopted by the government have put about half a million people out of work.