Europe
Greek police, protesters clash over Sunday trading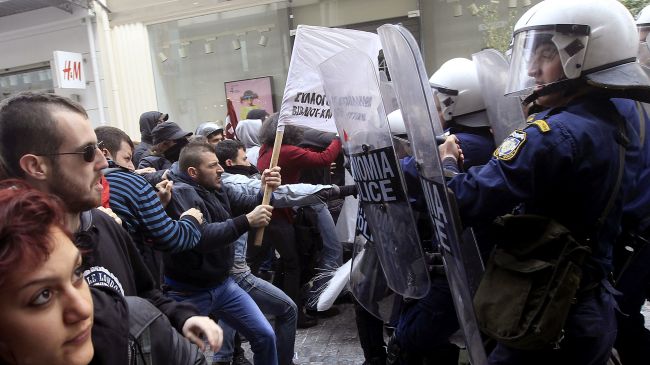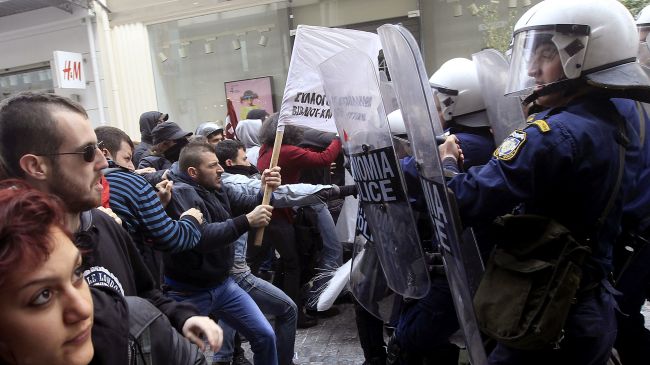 Greek police have clashed with demonstrators protesting against a government requirement to open shops on Sundays in the capital of Athens, Press TV reports.
Last year, the Greek government said trading should continue on a number of Sundays as during the weekdays. Athens is now planning to extend Sunday trading year around.
The move was an austerity measure required by Greece's troika of international lenders, namely the European Union, the European Central Bank, and the International Monetary Fund.
Some 500 protesters closed access to shops on a central street in the northeast part of the capital on Sunday, where banners were raised reading "Never on Sunday." The demonstrators also called on the people not to shop.
The protest ended when police forces used pepper spray to disperse the crowd from the street. There have been no reports of injuries or damage.
The protesters are against Sunday trading, saying the move mainly benefits large businesses, while harming small family-owned ones.
Retailers argue that Sunday trading has not yielded the desired earning. According to the Federation of Private Employees, the majority of the stores that opened on previous Sundays did not receive enough earning to cover their basic operating costs.
In addition, opponents say shop assistants and retail employees are being exploited as they work for long hours for virtually no money.
Up to 50 percent of the country's half-million retail workers have not been paid for up to 18 months.
Greece's economy has been relying on international bailout funds worth 240 billion euros (USD 322 billion) and on short-term bonds. In exchange, the government has implemented harsh austerity measures.
Since 2010, the national health, education and local government budgets have been cut down by some 40 percent and so have wages and pensions.
The country's unemployment rate currently stands at a record level of nearly 28 percent.
Greece, which has been in recession since 2008, is at the epicenter of the debt crisis in the eurozone.