Middle East
North America
Syria
Gret Satan US Sends Large Military Convoy to Syria Despite Claim of ISIL Full Collapse
 A large US military convoy entered Northeastern Syria past weekend despite President Donald Trump's declaration of victory against the ISIL in the war-torn country.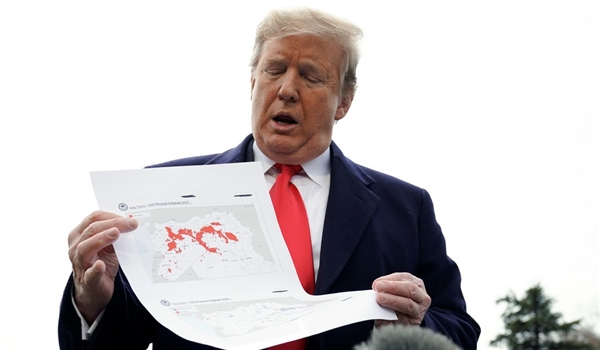 According to a report from the Hasakah Province, a US military convoy consisting of more than 150 trucks entered Syria via the Simalka Crossing at the Iraqi border. American military convoy reportedly contained a large amount of weapons that were to be delivered to the Washington-backed Kurdish fighters.
The Kurdish-led Syrian Democratic Forces (SDF) claimed on Saturday that they have crushed the last remaining pocket of militants resistance in Syria, stating that ISIL suffered "total elimination" and "a 100 percent territorial defeat".
US Envoy: Fight Against Daesh Not Over, Washington to Remain in Syria in Limited Numbershttps://t.co/m67aRHGlrh pic.twitter.com/ean4b95BLs

— Fars News Agency (@EnglishFars) March 26, 2019
As reports of the Last ISIL bastion being on the verge of complete liberation were coming in, US President Donald Trump rushed to boast of the US-led Coalition's victories. Days ago, he showed reporters a map showcasing how ISIL-controlled territory has dramatically shrunk over the years, and stressed that the militants "are losers and barely breathing".
But, Syria's envoy to the UN, Bashar Jaafari, dismissed the US leader's jubilant language as a "bluff" and "untrustworthy".
"ISIS is not over yet in Syria," he said, adding that militants are still hiding in the Rukban refugee camp, located within Washington-controlled area.
Trump on Saturday said ISIL has been defeated, and that the US, as part of a coalition, "has has liberated all ISIS-controlled territory in Syria and Iraq—100 Percent of the caliphate".
Trump made a similar declaration more than three months ago. And over the following 95 days or so, the American president on 16 occasions either claimed ISIL had been defeated or would be eliminated within hours or days.
Discovered Files Reveal Daesh Plans to Launch Revenge Attacks in Europe, Syriahttps://t.co/csRuRZTUon pic.twitter.com/0tBkKx3sKt

— Fars News Agency (@EnglishFars) March 25, 2019
On the other hand, Germany's Foreign Minister Heiko Maas warned the world not to celebrate too soon, stressing that ISIL remained an "underground threat". He warned that this threat should not be underestimated. French President Emmanuel Macron also said that France was safer, but warned that "the fight against terrorist groups must continue".
A UN report seen by Reuters has estimated there are up to 18,000 ISIL militants in Iraq and Syria, including up to 3,000 foreign fighters. It warned the group was interested in attacking aviation and using chemical, biological, radiological and nuclear materials.