Africa
Group says Sheikh Zakzaky's health 'seriously deteriorating', urges his release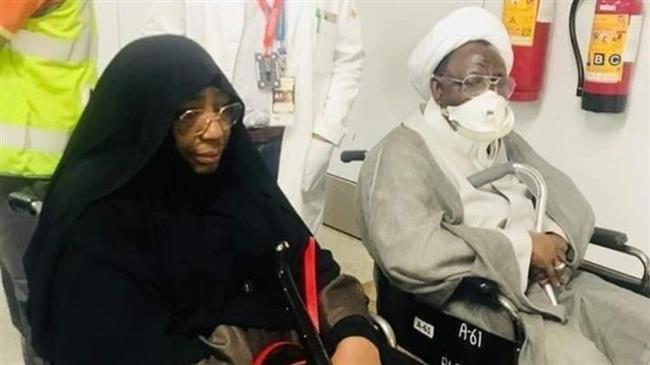 A Shia group affiliated with the Islamic Movement in Nigeria (IMN) has expressed concern about the worsening health conditions of prominent cleric Sheikh Ibrahim Zakzaky and his wife, demanding their "unconditional release" from prison.
The Academic Forum, which is a branch of the IMN and focuses on intellectual, cultural and civilizational advancement of the movement, raised fresh concerns on Saturday over the deteriorating health of the 67-year-old leader and his wife, Zinat, in a jail in the northwestern Nigerian state of Kaduna.
The group said information at its disposal revealed that bullets lodged in Zakzazy's skull and body during the December 2015 clash with Nigerian soldiers were threatening his life.
"Available information reaching us revealed that the health condition of Sheikh Ibrahim Zakzaky and his wife Malama Zinat Ibrahim is seriously deteriorating," the Academic Forum's spokesperson Abdullahi Muhammad Musa said.
"Our concern over the deteriorating health of Sheikh Zakzaky is growing, as a person with this critical condition is not supposed to remain in incarceration. How on earth will he continue to be in prison with bullet shrapnel causing more harm to an already worsening situation. This is not implausible that there are some sinister motives behind the regime's insistence on keeping him in the highly congested jail in Kaduna. How else can the actions of the regime be explained," he added.
The Islamic group's spokesman said the Nigerian government had prevented physicians from providing medical assistance to the top Muslim cleric, adding that a team of Indian doctors that came to Nigeria for the investigation and review of Zakzaky's case were not permitted to visit him.
"Take for instance the aborted trip to India. From the beginning, after the travel permit was granted by a court, moves were made by the government to frustrate it… The team of doctors that came to Nigeria for the investigation and review of his case were refused access to him. Instead they were substituted with very unusual set of unfamiliar doctors that acted in ways that caused the sheikh and his wife to become suspicious," Musa said.
"It is obvious that the Sheikh's critical health condition has not been given the attention it so requires… His wife suffers from severe arthritis in her knee joints, which her doctors have said can only be treated with knee replacement surgery since at least three years ago. She also has loose fragments of bullet pieces in her abdominal area which cause a large number of episodes of periodic life-threatening complications with her organs," he added.
The Academic Forum's spokesperson pointed to the two strokes the IMN's leader had already suffered while in detention, and said both Zakzaky and his wife needed "urgent and critical interventions to salvage their health."
"In view of the deteriorating health condition of Sheikh Ibrahim Zakzaky and his wife Malama Zinat Ibrahim, we are demanding for unconditional release of the couple," the Shia group said.
Zakzaky has been in detention since December 2015 after his residence in the city of Zaria was raided by Nigeria's forces, during which he was beaten and lost vision in his left eye.
During the brutal arrest, three of his sons were also killed, his wife sustained serious wounds, and more than 300 of his followers lost their lives.
The Nigerian government has been cracking down on Shia Muslim ceremonies for several years and has also banned the IMN, whose members regularly take to the streets of the capital Abuja to call for the release of their leader.
Zakzaky was charged in April 2018 with murder, culpable homicide, unlawful assembly, the disruption of public peace, and other accusations. He has pleaded not guilty, vehemently rejecting all the accusations brought up against him.
In 2016, Nigeria's federal high court ordered Zakzaky's unconditional release from jail following a trial, but the government has so far refused to set him free.
The IMN members say the Nigerian government has turned a deaf ear to all protests calling for the top cleric's release.