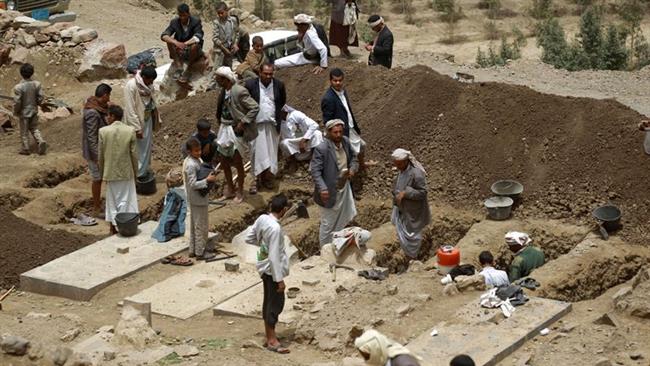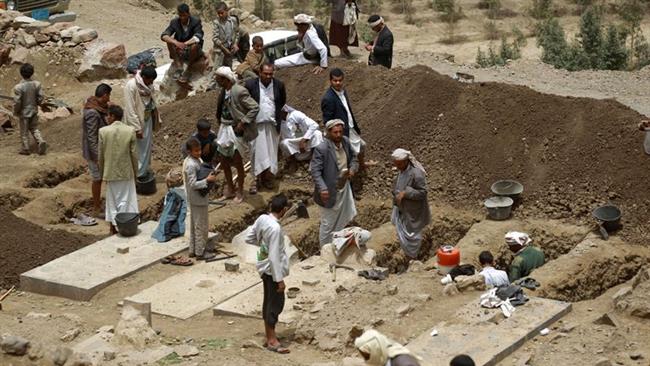 Civilians in Yemen are increasingly suffering from the ongoing violence in their country as Saudi Arabia's aggression against the Arab nation continues unabated, the United Nations says.
Humanitarian access to those most in need in Yemen has been restricted due to "aerial attacks and ground incursions" in the country, the UN news center reported on Monday.
Saudi Arabia's air campaign against Yemen started on March 26 without a UN mandate in a bid to restore power to the country's fugitive former president, Abd Rabbuh Mansur Hadi, a close ally of Riyadh.
According to the UN report, Saudi airstrikes resulted in the deaths of at least eight civilians in the past 24 hours alone.
The UN Children's Fund (UNICEF) has voiced concern about the escalating number of Yemeni children falling victim to the hostilities, the report said.
"At least 74 children are known to have been killed and 44 children maimed" since the start of the Saudi aggression, UNICEF said on Monday, emphasizing that the figures are "conservative" and the real numbers are much higher.
The UN agency further noted, "The conflict is exacerbating the already precarious situation for children in one of the region's poorest countries, with much of the country prone to food insecurity and with severe acute malnutrition widespread among young children."
"Children are paying an intolerable price for this conflict," lamented UNICEF representative in Yemen Julien Harneis on Monday, adding, "They are being killed, maimed and forced to flee their homes, their health threatened and their education interrupted."
The UN report also expressed concern about the growing number of Yemenis displaced inside their country.
"Increasing numbers of people from [the Yemeni capital] Sana'a and [the northwestern city of] Sa'ada are reportedly being displaced to Amran governorate, just north of the country's capital," the report said.
Some 28,000 people have moved into Amran since the beginning of the crisis, according to UN Office for the Coordination of Humanitarian Affairs (OCHA).
Houthi Ansarullah fighters of Yemen say Hadi lost his legitimacy as president of Yemen after fleeing the capital to the southern city of Aden in February, where he sought to set up a rival base. Hadi stepped down in January and refused to reconsider the decision despite calls by Houthi revolutionaries.
Houthi fighters are continuing their advances despite the Saudi attacks while also stepping up fighting against al-Qaeda terrorists and secured many areas from the militants.