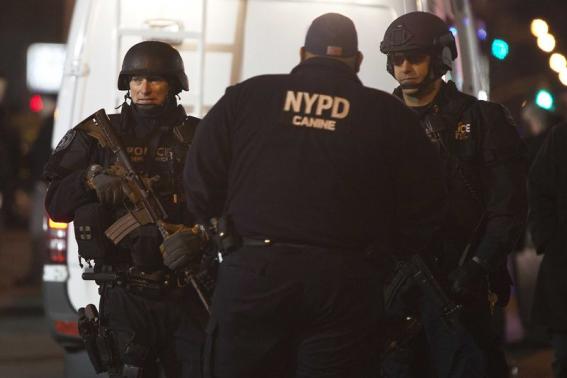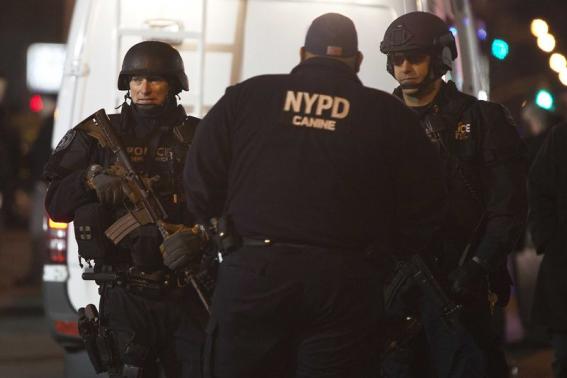 An American gunman with an apparent grudge killed two New York police officers on Saturday, in an attack that left America's biggest city reeling just days before Christmas.
The two uniformed officers were shot in the head through the window of their patrol car in broad daylight in Brooklyn on Saturday.
"Today, two of New York's finest were shot and killed with no warning, no provocation," said an emotional New York Police Commissioner Bill Bratton.
"They were quite simply assassinated."New York police
Police named the shooter as 28-year-old Ismaaiyl Brinsley, who shot and seriously wounded his ex-girlfriend in Baltimore early Saturday before driving to Brooklyn to murder the two officers.
He shot himself in the head on the platform, where Bratton said a silver semi-automatic firearm was recovered near his body.
Wenjian Liu, a seven-year police veteran who got married two months ago, and Rafael Ramos, who leaves behind a 13-year-old son, were "ambushed and murdered" as they sat in the front seats of a marked NYPD police car, officials said.
Neither officer had a chance to draw his weapon before Brinsley opened fire with several rounds and fled to a nearby subway station.
Media reported that Brinsley, an African American, killed the officers in a cold-blooded attack after weeks of outrage over police killings of unarmed black men.
Cities across the United States have seen weeks of protests condemning a string of recent police killings of unarmed black men and decisions by grand juries not to press charges against the white officers responsible.
In July, Eric Garner, an unarmed black man father of six, died after police held him in a chokehold while he was being arrested for selling individual cigarettes illegally in New York.
Michael Brown, an 18-year-old black youth in the Ferguson suburb of St Louis, Missouri, was shot dead by a police officer in August, sparking months of protests.
Grand jury decisions not to indict either white officer responsible triggered mass protests in New York and other US cities.
For his part, President Barack Obama "unconditionally" condemned the murders, saying in a statement: "Tonight, I ask people to reject violence and words that harm, and turn to words that heal."