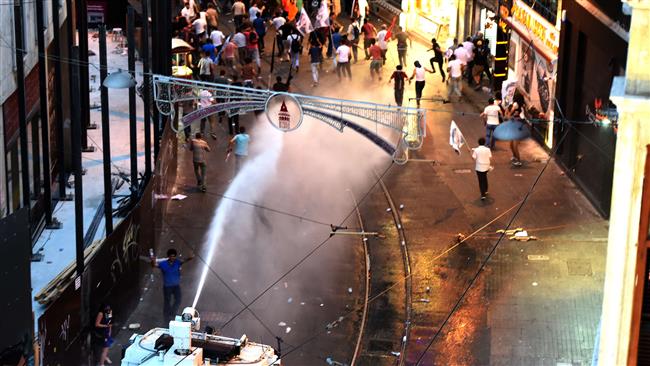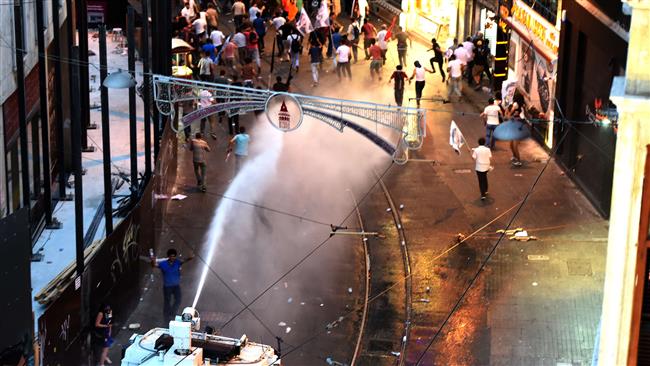 Gunmen have opened fire on a Turkish police station in Istanbul, and fled the scene of the shooting attack, Turkish media reports say.
The assailants fired at least 10 bullets with long-barreled weapons at the building in the Sultangazi district of the largest city in Turkey on Tuesday morning, Cihan News Agency reported.
Security forces backed by a helicopter gunship have launched a massive manhunt to arrest the attackers.
On Monday, a demonstration was held in the city following a bomb blast in the town of Suruc. Turkish police fired water cannon to disperse the protesters.
The explosion in Suruc, located in southern Turkey near the Syrian border and opposite the Syrian town of Kobani, killed more than 30 people.
The explosion targeted people from the Socialist Youth Associations Federation, also known as  the SGDF, who had gathered at a cultural center before their journey to Kobani to help in the restructuring of the war-ravaged town in Syria.
Turkish Prime Minister Ahmet Davutoglu has said that Turkish law enforcement agencies have identified the bombing suspect. Government officials said on the day of the blast that it was a "suicide attack."
There was a "high probability" that the Takfiri ISIL terrorist group has been behind the attack, Davutoglu said.
"What's necessary will be done against whomever responsible for (the attack)," he stated. "This is an attack that targeted Turkey."
"Security on our borders will continue to be increased," Davutoglu said late Monday.
An unnamed Turkish government official earlier said Turkish authorities have "strong reason to believe that the terrorist attack" was perpetrated by ISIL.
The Turkish premier has rejected claims that the ruling Justice and Development Party (AKP) had not done enough to combat ISIL.
Turkey along with some other regional countries has been widely accused of supporting the Takfiri militants in Syria as part of a broader Western plot for the overthrow of Syrian President Bashar al-Assad.