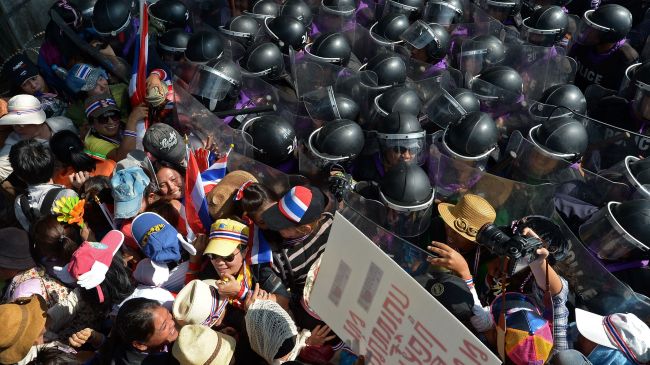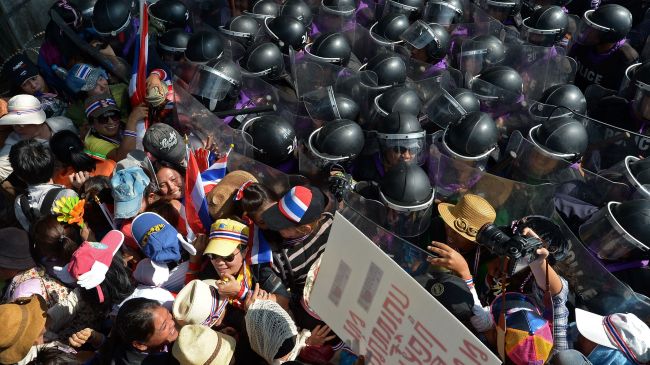 Two people were wounded in shootings in the Thai capital Bangkok on the third consecutive day of anti-government protests, authorities say.
A man and a woman were taken to hospital after shots were fired shortly after midnight on the fringes of the protesters' main "shutdown" base in Bangkok's commercial heart, according to the city's Erawan emergency centre. Television footage showed dozens of shots fired by unknown gunmen.
The shootings come as the demonstrators continued their occupation of parts of the capital by closing key parts of the city during the so-called Bangkok Shutdown protests.
Meanwhile a makeshift bomb was hurled at the house of opposition leader Abhisit Vejjajiva. No one was reported injured.
The protesters, backed by the kingdom's royalist establishment, call for resignation of Thai Prime Minister Yingluck Shinawatra, accusing her of taking orders from her brother, former Premier Thaksin Shinawatra.
In a bid to calm down the protests, Yingluck called a snap election for February 2, but the move failed to soothe protesters.
The anti-government protesters want to replace the government with an unelected "People's Council."
The protesters also say they don't want to see the same old corrupt politicians returning to power over and over again.
Protests started in Thailand on October 31, 2013, after the government proposed an amnesty bill that could have pardoned Thaksin, setting the scene for his return to Thailand.
The former prime minister was ousted in a military coup in 2006. He has been in self-exile since 2008 to avoid a two-year prison sentence over corruption.
Weeks of violent demonstrations in Thailand have left eight people, including a policeman, dead and hundreds wounded.