North America
Half a million forced to evacuate as blaze rages across Oregon
Half a million people have been forced to leave their homes in the US state of Oregon as deadly wildfires, not seen in decades, are raging across the Pacific northwest.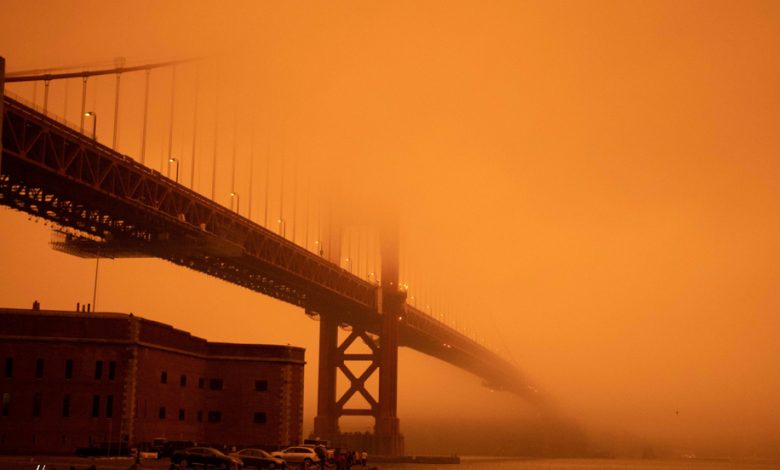 The blazes searing through the American west have killed at least 15 people, leveled entire neighborhoods and forced stretched firefighting crews to make tough decisions about where to deploy.
State officials said on Thursday that 500,000 people were evacuated as dozens of blazes are sweeping Oregon, with some of them suspected to have deliberately been set.
The number of those evacuated amounts to over 10% of the state's 4.2 million population.
The blazes have burnt more than 900,000 acres in the last few days, according to Governor Kate Brown.
"We have never seen this amount of uncontained fire across the state," she said. "This will not be a one-time event. Unfortunately, it is the bellwether of the future. We're feeling the acute impacts of climate change," she added.
Brown said there are known fatalities as a result of the fires, but the exact number of lives lost remains unknown. A 12-year-old boy and his grandmother are confirmed to be among the Oregon victims.
Over 17,000 firefighters are currently struggling to contain the blaze.
The Oregon Office of Emergency Management said wildfire activity was made even more dangerous in northwestern Oregon as hot, windy conditions continued.
Three law enforcement agencies in Oregon, including the Ashland Police Department and the State Police, have opened an investigation into the suspicious origins of the wildfire that began in the town of Ashland and destroyed hundreds of homes.
"We have good reason to believe that there was a human element to it," said Ashland Police Chief Tighe O'Meara.
More than 100 wildfires are currently scorching 12 western US states, including Oregon, California and Washington.
California
In California, smoke from wildfires turned skies orange on Thursday. A least 10 deaths have been confirmed in the state so far.
Authorities in Butte County north of Sacramento have found 10 bodies in the last two days. They said there are fears the toll will rise as 16 people remain unaccounted for.
Some 64,000 people were under evacuation orders, while at least 14,000 firefighters were battling 29 major fires across the state.
California has been battling a barrage of fires since August.
Washington
In Washington, fires have burned nearly 2,426 kilometres, according to governor Jay Inslee, who described the blaze as one of "the most catastrophic fires we've had in the history of the state."
"We've had this trauma all over Washington," he said. "California, Oregon, Washington, we are all in the same soup of cataclysmic fire."
In the farm town of Malden in the east of the state, where a fire destroyed most of the homes, police ran through the streets shouting at residents to flee for their lives. More than 80% of homes in Malden have been destroyed.
A one-year-old boy died and his parents were in a critical condition as they were overrun by fires, while trying to flee, according to officials in the northern county of Okanogan.
Trump silent on devastating fires
As the county is facing multiple crises, including the coronavirus pandemic, widespread anti-racial protests as well as the deadly fires, President Donald Trump who is facing re-election in November has yet to offer any public statement about the wildfires in the Pacific northwest and northern California.
On Thursday, he sent several tweets and retweets, but none of them was about the fires.
That is hardly the same response the president demonstrated when anti-racial protests broke out in Portland, Oregon. He sent his federal agents to the city to crackdown on demonstrations, leading to scenes of violent clashes between the federal forces and protesters.
Back in August, the president signed a disaster declaration for California, but he has yet to sign one for Oregon, whose governor said she sent in the request on Wednesday night.
Trump, who does not enjoy widespread support on the West Coast, has had a long history of dismissing wildfires and other natural disasters there.
He has also repeatedly dismissed warning over devastating effects of climate change and denied climate science. Since taking office four years ago, the president has scaled back or removed over 150 environment measures.
In November last year,he officially announced his country's withdrawal from the Paris climate agreement, which had been ratified by the US at the UN climate change conference in Paris in 2015.
In the agreement, the US agreed to cut its heat-trapping pollution at least 26% below 2005 levels by 2025.