Syria
Hama: Terrorists' Military Positions Come Under Syrian Army Attacks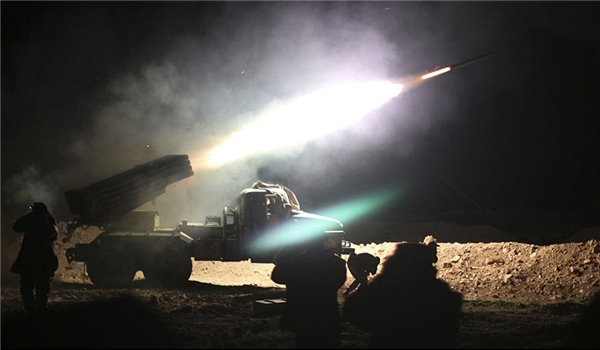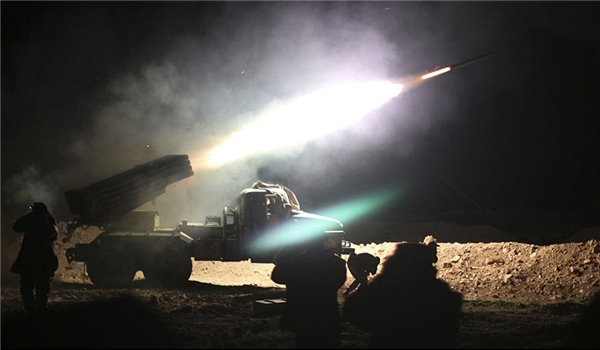 The Syrian army and air force pounded the military positions of the terrorist groups in Hama province, inflicting heavy losses on the militants.
The terrorists of Ajnad al-Qoqaz and Jund al-Aqsa came under attack by the Syrian army helicopters in the surrounding areas of the town of Kokab in the Northern part of Hama province, sustaining heavy losses.
The Syrian army also hit the terrorists who had entered Kokab town with rockets as the Syrian air force also hit their military positions hard.
Fierce clashes are still underway in the surrounding areas of Kokab town.
On Sunday, the Syrian Army aircraft bombed heavily ISIL's sites in Aqayrabat region, inflicting major losses on the Takfiri group's armored vehicles and tanks.
At least eight tanks and four bomb-laden vehicles of the ISIL were destroyed in the Syrian jets' bombardments in Eastern Hama.
In the meantime in Northern Hama, gatherings and concentration centers of Jeish al-Fatah in Western side of Ma'ardes, Souran, West of Kowkab, Northern side of Ma'an, Tal Bazam, Fleifil hill, al-Naseriyeh hill and Southern side of al-Latamina were bombed by the Syrian fighter jets for the second day in a row, ending in the killing or wounding of several militants and destruction of a number armored vehicles.
On Saturday, Syrian fighter jets traced and targeted two main depots of terrorists' arms and missiles in Northern Hama.
Jeish al-Fatah's depots of arms and ammunition in Souran and Morek were demolished in the Syrian air raid.
The Syrian warplanes also bombed Jeish al-Fatah's bases, tanks and armored vehicles in Ma'an, Taybat al-Imam, Atshan, Tal Bazam, Skeik, Tal al-Naseriyeh and surrounding of Khirbet al-Hajameh.