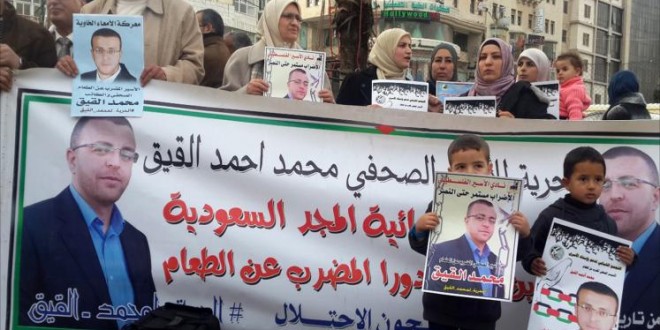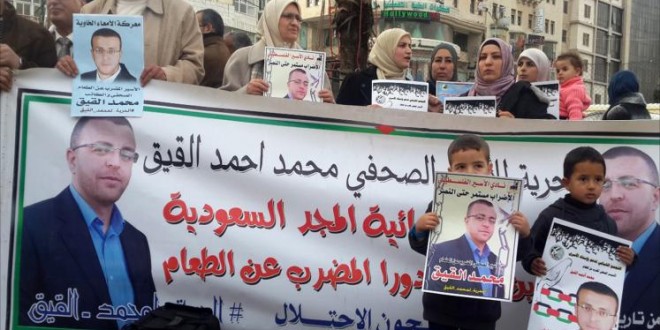 Hamas Movement said Tuesday that any serious development in al-Qeiq's health condition will cost Israeli authorities a high price, saying that Israel must take Palestinian Captive Movement's threats into consideration. The leader in the Movement Abdel-Rahman Shadid said in a press release issued Tuesday that the Captive Movement in Israeli jails warned Israel that it would pay a very high price if anything bad happened to al-Qeiq.
The Captive Movement's threats came after medical reports raised alarm bells over al-Qeiq's serious health deterioration, Shadid pointed out. The prisoners have realized that Israeli authorities deliberately ignore al-Qeiq's hunger strike, he continued. Palestinian prisoners had declared on Tuesday a one-day hunger strike in solidarity with Mohamed al-Qeiq who entered his 71st day of hunger strike in protest against his administrative detention. Meanwhile, the Palestinian Prisoners Society (PPS) revealed that Afula Hospital administration released Tuesday afternoon a second medical report about al-Qeiq's condition as his health situation continues to deteriorate.
Releasing two medical reports in the same day proves the critical stage reached by al-Qeiq, Jawad Bolous, the PPS' lawyer, pointed out. Bolous said that al-Qeiq renewed on Tuesday his rejection to take any medical treatment or vitamins despite his difficult health condition. Earlier Tuesday evening, Israeli authorities allowed for the first time a Palestinian doctor to visit him in Afula Hospital on Thursday. The Israeli decision to allow a Palestinian doctor's visit to al-Qeiq came after the massive efforts made by Physicians for Human Rights Organization in this regard over the past period.
Along the same line, al-Qeiq's lawyer Ashraf Abu Sneineh said that Israeli authorities allowed Tuesday only one lawyer to meet him although three lawyers used to meet him daily. Prisoner al-Qeiq initiated his hunger strike under the slogan "Free or Dead" in protest at being held administratively in Israeli occupation jails, with neither charge nor trial.