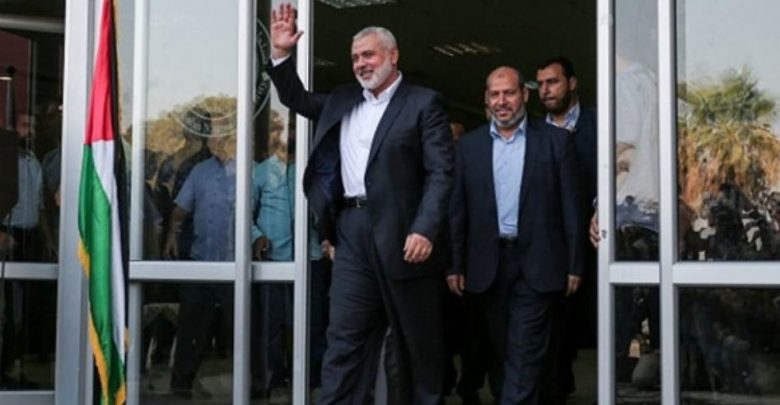 The Head of Hamas Political Bureau Ismail Haneyya and the accompanying delegation have arrived in Gaza on Wednesday evening after a three-week visit to Cairo.
Haneyya visited Cairo and conducted a series of successful meetings with Egyptian officials, figures, and journalists. The meetings focused on boosting bilateral ties with Egypt and on other issues concerning the Palestinian cause.
The Hamas delegation's' visit to Egypt has achieved its objectives, member of Hamas Political Bureau Kahlil al-Hayya stated.
In an interview broadcast by al-Aqsa TV Channel, al-Hayya clarified that the objectives of the Hamas chief's visit to Egypt were enhancing bilateral ties between Egypt and Palestine, discussing the different issues concerning the Palestinian current situation, and promoting reconciliation and unity.
The senior Hamas official expressed his gratitude to Egypt for the critical role that the country plays in support of the Palestinian people. He also lauded Egypt for maintaining rock-solid ties with Hamas and the Palestinian people.
He also noted that the Hamas chief Ismail Haneyya had reiterated Hamas' positive stance towards reconciliation during his visit to Egypt, which is necessary to fight off all current challenges.
"The Egyptian officials do understand the position of Hamas towards unity, which is in line with the stances of the other Palestinian factions," al-Hayya added.
Of importance, al-Hayya said, any reconciliation deal has to be based on partnership, restructuring the Palestinian political system, and holding the Palestinian general elections.
Commenting on the Egyptian support, the senior Hamas official said that Egypt's support for the Palestinian people and for the Gaza Strip, especially keeping the Rafah border crossing open, is critical.
Al-Hayya lauded Egypt for following up the aggressive Israeli measures at al-Aqsa and closing Bab al-Rahma by the occupation forces.
He also thanked the Egyptian officials for endeavoring to remove or alleviate the Israeli 12-year blockade imposed on the Gaza Strip.