Bahrain
Middle East
Palestine
Qasem Suleimani
Hamas condemns Bahraini foreign minister's visit to occupied territories
Palestinian Hamas resistance movement has censured a Bahraini government delegation led by Foreign Minister Abdullatif bin Rashid al-Zayani over paying an official visit to the occupied territories, more than two months after the Persian Gulf kingdom normalized relations with Israel.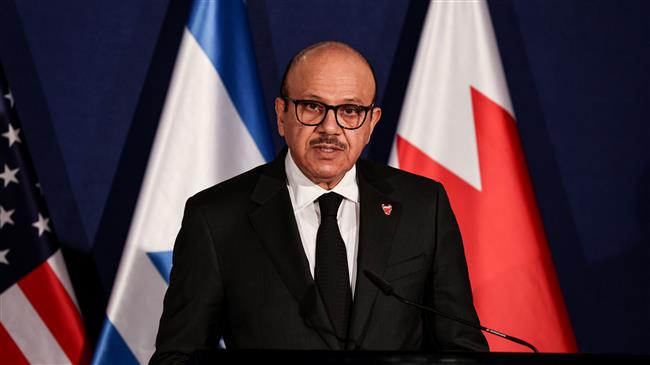 "The Bahraini foreign minister's visit to the occupied lands and the friendly talks he had with criminal Israeli leaders are deplorable and condemned in strongest terms. This is an unacceptable act at [both] Arab and moral levels," Hamas spokesman Hazem Qasem said in a statement released on Thursday.
He added, "Bahrain's request to exchange ambassadors during its foreign minister's visit reflects the Bahraini regime's insistence on deepening the national mistake that it made by signing the normalization agreement with the Israeli Occupation."
Qasem then lambasted the Manama regime's intent to exchange ambassador with the Tel Aviv regime as contrary to Arab principles and an act of antagonism against the national interests of Bahraini people, warning that such a measure would further escalate tensions in the region.
The senior Hamas official highlighted that Zayani's visit to the occupied lands concurrent with an uptick in Israel's settlement construction activities in Jerusalem al-Quds has made the Persian Gulf nation a partner in the crimes and aggression being committed against Palestinian people, their rights and land.
On Wednesday, the Bahraini delegation arrived by Gulf Air's flight GF972 at Tel Aviv's Ben Gurion Airport, and Zayani was welcomed by his Israeli counterpart Gabi Ashkenazi.
US President Donald Trump's Middle East envoy, Avi Berkowitz, was on the flight as well.
Zayani met with Israeli prime minister Benjamin Netanyahu and outgoing US Secretary of State Mike Pompeo in Jerusalem al-Quds later in the day.
At a ceremony in Manama on October 18, Bahraini and Israeli officials signed a joint communiqué establishing full diplomatic relations. The Manama and Tel Aviv regimes are now expected to open embassies.
The Israeli delegation, led by Israeli security adviser Meir Ben-Shabbat, flew on an El Al Israel Airlines charter flight from Ben Gurion Airport to Bahrain and was accompanied by US Secretary of the Treasury Steven Mnuchin.
The meeting followed a September 15 ceremony at the White House when Netanyahu signed US-brokered normalization deals with the Emirati Foreign Minister Sheikh Abdullah bin Zayed Al Nahyan and the Bahraini foreign minister.
The normalization deals have drawn widespread condemnation from Palestinians, who seek an independent state in the occupied West Bank and Gaza Strip, with East Jerusalem al-Quds as its capital. They say the deals ignore their rights and do not serve the Palestinian cause.
Many Arab states say they remain committed to the so-called Arab Peace Initiative – which calls for Israel's complete withdrawal from the Palestinian territories occupied after 1967 in exchange for peace and the full normalization of relations.
But speculation has been rife that some countries in the region would soon join the bandwagon to establish full diplomatic ties with Israel.