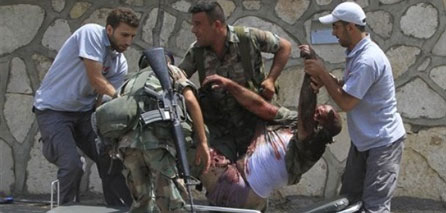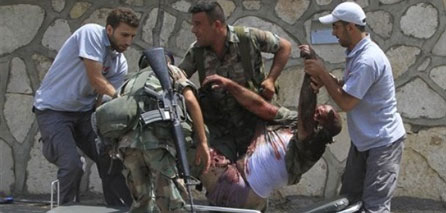 The Hamas Movement has strongly condemned the "vicious" Israeli aggression on south Lebanon Tuesday morning, saluting, at the same time, the Lebanese army for defending their country's sovereignty.
Dr. Sami Abu Zuhri, the spokesman of Hamas in Gaza Strip, described in an interview with the PIC the Israeli incursion into south Lebanon as a reflection of arrogance and vandalism Israel practices in the region.
"We indeed salute the Lebanese political leadership for backing the army and giving them the political support and cover to rebuff the invasion", said Abu Zuhri who also expressed Hamas's condolence to families of the Lebanese soldiers who were killed in the clashes.
For his part, Dr. Ismail Redwan, another political figure in Hamas, pointed out that the Israeli attack would be recorded in the Zionist regime's black record, asserting that the aggression on Lebanon is an aggression on the Palestinian people.
In Damascus, Hamas Movement issued an official statement deprecating the Israeli aggression and asserting Lebanon's right to defend its territories, urging the international community to bridle the Zionist violation of international laws and conventions.
"The Israeli aggression on Lebanon was a continuation of the Israeli crimes against the Palestinian people and the rest of the Arab and Muslim Ummah, which indicates that the Israeli enemy is hazardous to international peace, security, and stability being a blood-thirsty regime", underlined Redwan in another interview with the PIC.
According to Lebanese and foreign sources, at least three Lebanese soldiers and one journalist working for a local newspaper were killed in the clashes that erupted when an Israeli military patrol infiltrated the Lebanese territories near the village of Odaisa and started uprooting trees with the purpose to install spying cameras inside Lebanon despite the Lebanese military call on them to withdraw immediately and halt the operation.
Lebanese and independent sources claimed that an Israeli colonel was also killed, and at least five soldiers were wounded when the Lebanese army retaliated to the Israeli attack.
Former president of Lebanon Emil Lahoud said that Israel attacks neighboring countries and then claims that it was the victim.
"I expected this aggression as the Israeli warplanes violate the Lebanese airspace on daily basis without the UN taking any action against such violation", said Lahoud.
He added that the Lebanese army has a military doctrine to defend Lebanon at all cost, underscoring that strength and immunity of Lebanon is in its national army who already comprehended that the only way to preserve Lebanon is to defend it.
Despite the current calm at the Palestinian-Lebanese borders, tension is still prevailing in the area, said the spokesman of the UNIFIL forces who added that his group exerted tremendous efforts and made intensive contacts to calm down the situation. He also urged both parties to exercise self-restraint.