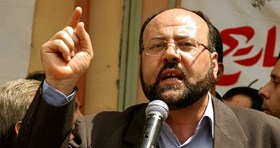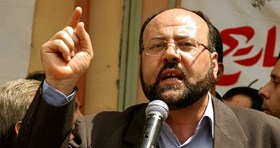 A delegation of Hamas Movement headed by the group's representative in Lebanon Ali Baraka met with the Lebanese Army's Intelligence Chief Brig. Gen. Edmond Fadel in the Ministry of Defense in Beirut.
Hamas's delegation included Baraka's deputy Ahmed Abdul Hadi, media official Ra'fat Mora, and political relations official Ziyad Hassan.
The two parties discussed, during the meeting, the general situation in Lebanon and the Palestinian refugee camps.
They also stressed the importance of maintaining civil peace and stability in the country and in the Palestinian refugee camps in particular.
Baraka, for his part, stressed the urgent need for activating coordination between Palestinian factions and the Lebanese authorities in order to strengthen relations between the two peoples and protect and neutralize the Palestinian presence in the country.
He renewed his group's total adherence to the right of return, saying that the Palestinian refugees in Lebanon have no other political issue to deal with except the Palestinian right of return and the Jerusalem Intifada.