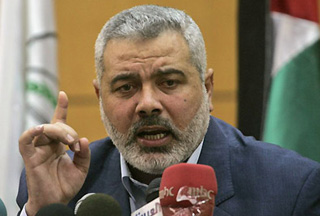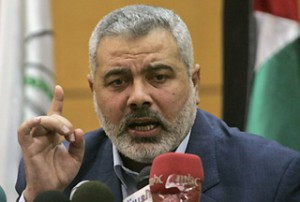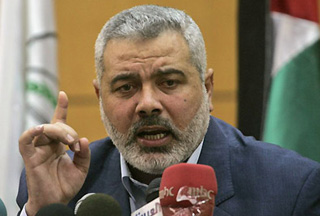 Hamas has threatened to boycott reconciliation talks with Fatah unless hundreds of its jailed supporters are released from prisons in the West Bank.
Hamas Premier Ismail Haniya said that the unity talks between the two Palestinian rival factions, Hamas and Fatah, are unlikely to succeed without the release of detained Hamas supporters.
"It is doubtful that this dialogue can succeed and it is doubtful that parties including Hamas would attend the coming round of dialogue in Cairo if we don't close the file on political arrests," Haniya said in a Friday sermon at a mosque in Rafah, in the southern Gaza Strip by the Egyptian border.
"We are not naive and we won't accept that dialogue takes place while arrests continue", Haniya said.
The next round of Egyptian-brokered reconciliation talks is scheduled for Aug. 25 in Cairo. The meeting is part of efforts to secure a power-sharing deal ahead of presidential and parliamentary elections set for January.
Hamas had boycotted the inter-Palestinian dialogue, which was scheduled for November 2008 in Cairo, in protest at the detention of its members by Fatah forces headed by Abbas.
Differences between the two Palestinian factions reached its peak in June 2007 when Hamas forced out Fatah security forces from the Gaza Strip to 'foil an attempted coup by some Fatah elements'.
Later, acting Palestinian Authority chief Mahmoud Abbas, in response, dismissed the Hamas government headed by Ismail Haniya who had come to power after winning the democratic elections in 2006.