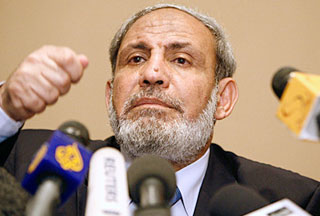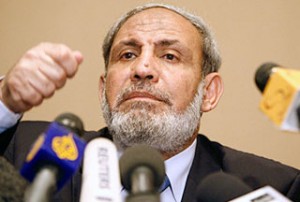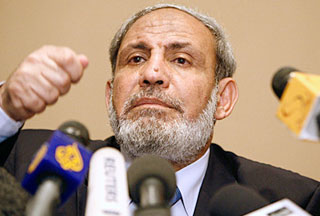 A senior member of the Hamas leadership in the Gaza Strip, Mahmoud al-Zahar, says that the long-standing siege on the impoverished Gaza Strip is because the resistance movement doesn't follow Washington's lead.
"The Gazans are suffering severe hardship under the crippling Israeli siege for the simple reason that the Islamic Hamas movement won a large majority in the Palestinian parliament in January 2006. The outright victory of Hamas in the election dealt a bitter blow to the United States and its Zionist ally. Washington punishes free nations who stand against its wishes," Zahar told Tehran-based Arabic-language Al-Alam television news channel on Thursday.
Israel has continued to close all border crossings to the Gaza Strip for more than 2 years. The illegal Israeli-imposed blockade on the Gaza Strip, which has been steadily tightened since 2007, has had a disastrous impact on the humanitarian and economic situation in the coastal enclave.
Some 1.5 million people are being denied their basic rights, including freedom of movement, and their rights to appropriate living conditions, work, health and education. Poverty and unemployment rates stand at approximately 80% and 60% respectively in the Gaza Strip.
The high-ranking Hamas official meanwhile criticized the Fatah-led Palestinian Authority over its double standards. "The acting Palestinian Authority chief, Mahmoud Abbas, alleges to be supportive of resistance against the Israeli regime on the one hand while expanding security cooperation with the Zionists on the other," he said.
Zahar also welcomed the formation of a Central Electoral Committee to terminate the animosity between the major Palestinian factions of Hamas and Fatah.
On the Egyptian-brokered reconciliation efforts, Zahar said, "It's impossible for each of the factions to adopt the other's policies and views, but the decision-making should rest with those who enjoy a robust popular support."
Hamas and Fatah have long been wrangling with each other over substantial discords which have caused real bottlenecks to compromise and healing the internal Palestinian rifts.
Ever since Hamas won an outright majority in the 2006 Palestinian legislative elections, the two factions have pursued bitter rivalry.